You may want to add a logo or other images to your templates. In Donorfy you can't embed an image in a document but you can provide a link to an image on the internet and the image will then appear in the document.
Why? Because the image needs to be available on the internet, and it needs to be accessible by any of the Donorfy users who need to send or print the document. Images may well be assets that are already used in your website - your logo for example. Images in your website will have a URL - this is probably the easiest way to link an image. This also means that any changes of logo will automatically be reflected in your Donorfy documents, without the need to change them all.
However can also access images in cloud storage solutions such as OneDrive, Google Drive and Dropbox. However, be aware that some locations may only be accessible to users when they are logged in to those solutions, so it may not be the best way to get images into your documents.
Tips when using Dropbox
You can create a free Dropbox account and share a picture - see this for more info. From Dropbox copy the link to your picture.
Next in Donorfy go into settings and open the letter you want to add your picture to, press the image button - highlighted in yellow below - the image properties dialog will be shown - then
Paste the Dropbox link to your picture into the URL field - e.g. https://www.dropbox.com/s/i6jqmgjt1wshdjhsa6/myimage.png
Next add raw=1 to the end of the link

if there is already something on the end of the link after the file name (e.g. ?dl=0) then add &raw=1 e.g. https://www.dropbox.com/s/i6jqmgjt1wshdjhsa6/myimage.png?dl=0&raw=1
Otherwise add ?raw=1 e.g. https://www.dropbox.com/s/i6jqmgjt1wshdjhsa6/myimage.png?raw=1

you can optionally set the width and height of the picture
When you press OK your image will appear in your document.
Finally save your changes.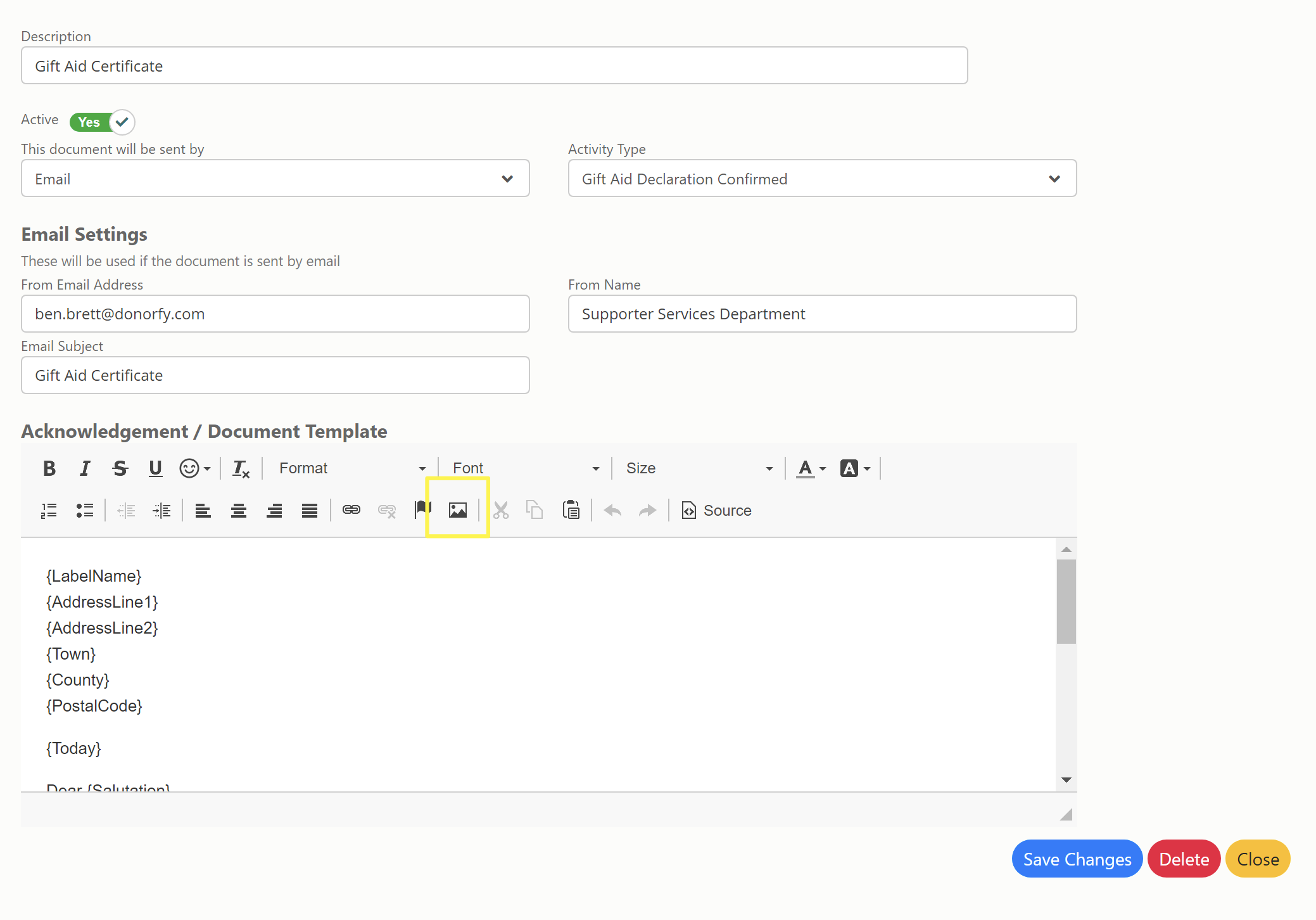 If you want to include a signature in a document you can create a scan of the signature and then upload the scan to Dropbox - include the scan as you would any other picture.