Constituents are the people and organisations that you interact with and the Constituent Types are the broad categorisations of the constituents you have in Donorfy - e.g. individual, company, church, etc.
Constituent types should be exclusive to a given constituent cannot be in more than one type. This means it's best to keep constituent types at a high level - for example, do not set up lots of constituent types for different types of individual (such as donor, volunteer, etc.) as an individual might be in one or more category at any point - it is better to use Tags for more detailed flagging & categorisation.
The Constituent Type cannot be longer than 18 characters and should not have an apostrophe or / in the name.
A Constituent Type can be defined to be a group, this means it represents something other than an individual person, e.g. it's a church or a company, etc.
When you add a new constituent, you start by choosing the type of constituent you want to add from your Constituent Type list, e.g. I want to add an individual.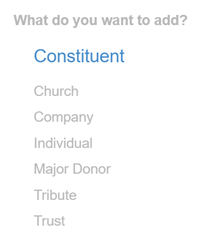 A new Add constituent record will be opened – a different view will appear dependent on the constituent type:
Group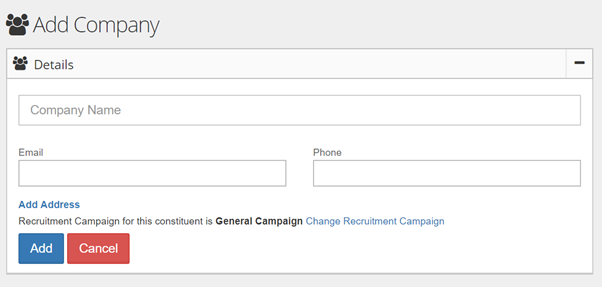 Individual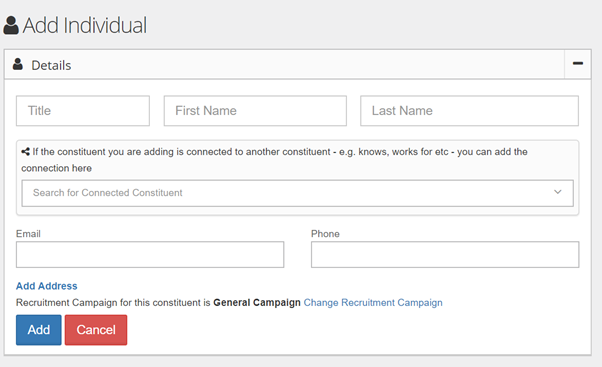 For constituent types that are:
groups you can enter a name for the constituent e.g. ACME Ltd, St Johns Church, etc.
individual's you can the personal details - including title, first name, last name, and so on.
You can change a constituent's type from the Manage menu when you open a constituent's record.
Managing Constituent Types
You can add, modify and delete constituent types via Settings > Configuration > Constituent Types
Click on the add button and enter a description for the type
If the constituent type you are adding is a group then toggle the Constituent is a group switch to Yes
Then Save Changes
The newly created constituent type will then be available for all users.

Panel and Tag Category display
The Constituent Type settings page will allow the Constituent Profile page to be customised for each constituent type. You will be able to choose which panels will appear on the Profile page for a constituent according to their type. For example, this might be used to define a constituent type representing collection boxes, where the Preference Centre panel (say) would not be relevant.
You will also be able to choose which Tag categories show for any constituent type. For example, this would allow tags representing individual volunteer skills to be hidden for constituent types representing organisations. Please note that the Tag Category display can also be governed by user permissions - so if you or a colleague are expecting to see a tag category displayed but it isn't showing you should check both the constituent type settings (this article) and the user permissions for the user concerned.