Whilst it would be brilliant if all of the transactions paid on to your system were eligible for Gift Aid, sadly they are not, and the HMRC does have some specific guidance in place to determine which transactions are eligible and those that are not.
Every night Donorfy will update your Active Gift Aid claim and only those eligible Transactions are automatically added to the active claim.
Eligibility
For this to happen, the following conditions must always be satisfied:
The Constituent must have an active Gift Aid Declaration on their Timeline
The Transaction's Potentially Gift Aid-able switch must be set to Yes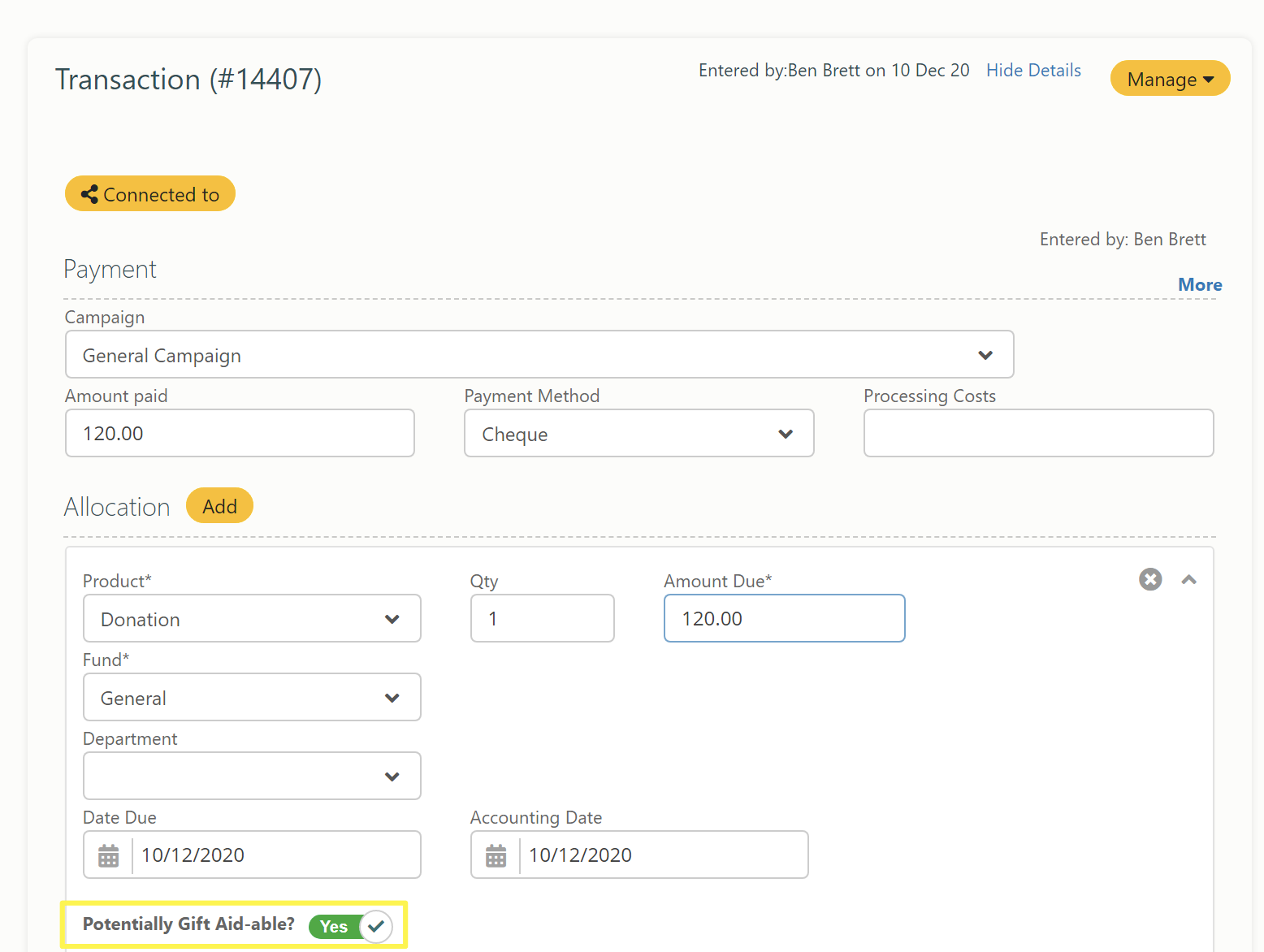 The Transaction's Date Paid is within 4 years of the end of the financial year you received it in
The Transaction's Product is set to allow Gift Aid (Settings > Configuration > Products)

The Transaction's Payment Method is set to allow Gift Aid (Settings > Configuration > Payment Methods)

Must not have been previously claimed
The Transaction was not imported (using the File Upload) as having been already claimed, thereby stopping it from appearing in any claims in Donorfy.
The transaction was not set as blocked from a previous claim
Further to this, the below Constituent details must be present or the transaction will display as an error within the Active Claim for checking:
The donor must have a first line of address
The donor must have a valid postal address
The donor title must less than 4 characters in length
The donor must have a first and last name (or initial and last name)
Review the eligible transactions
From Financial > Gift Aid click on the Active Claim tab to see the Transactions that figure in the Active Claim.
The active claim is rebuilt overnight so that any new eligible transactions are added to the claim. Any transactions that are eligible but there is something preventing the Gift Aid from being claimed for the transaction will display an error, see Correcting Errors in Gift Aid Claims
Preventing Transactions from being claimed
If you want to remove donations from the claim see "How do I remove a donation from the active claim or the ready to claim?" in the Gift Aid - Frequently Asked Questions article.