You can create a transactional page that will allow you take one-off or recurring donations for your Campaign - these pages are hosted by Donorfy so you don't need to make any changes to your website.
You need to be connected to Stripe to take donations so if you haven't connected to Stripe please read this first
Set up your page by following these steps
Find your Campaign and click on it to open it (or create a new campaign)
Click on the Donation Page tab and make the following entries:

Page Title - this will be shown at the top of your donation page
Page Link - this will be added to the end of your donation page link e.g. if your page was for the Clear Water Campaign you might enter clearwater and your link would show as: app.donorfy.com/Donate/abcdefgh/clearwater - note do not include any spaces or characters that are not letters or numbers
Page Text - this is displayed at the top below the title - you can remind people about your cause and why they should support it
If you have terms and conditions and/or a privacy policy (e.g. on your existing website) then put the links in - these links will appear on the donation page
Thank you message - this will be shown after the donation is processed
Link from Thank you page - this will usually be back to your website
Donations will be allocated to the Product and Fund associated with the Campaign - you can make further entries (e.g. Currency and so on) which are used to process donations
You can upload your organisation's logo - this will be shown on the top right of the donation page.
A Mailchimp Automation can be assigned to the Campaign Donation Page - for further information please see this article: Initiating Mailchimp Automations or Supporter Journeys from Donorfy
Please note
Mailchimp are in the process of sunsetting the Classic Automations feature. The option is now only available to accounts that have previously created a Classic Automation. Click here for further details
If your Mailchimp account does not have this feature, the suggestion is to use a Donorfy Trigger coupled with the Supporter Journey option.
Press the Save Changes button
The link to your donation will be shown at the top of the page - as shown below. The link can then be included in an email to your constituents encouraging them to donate or added to a button on your website.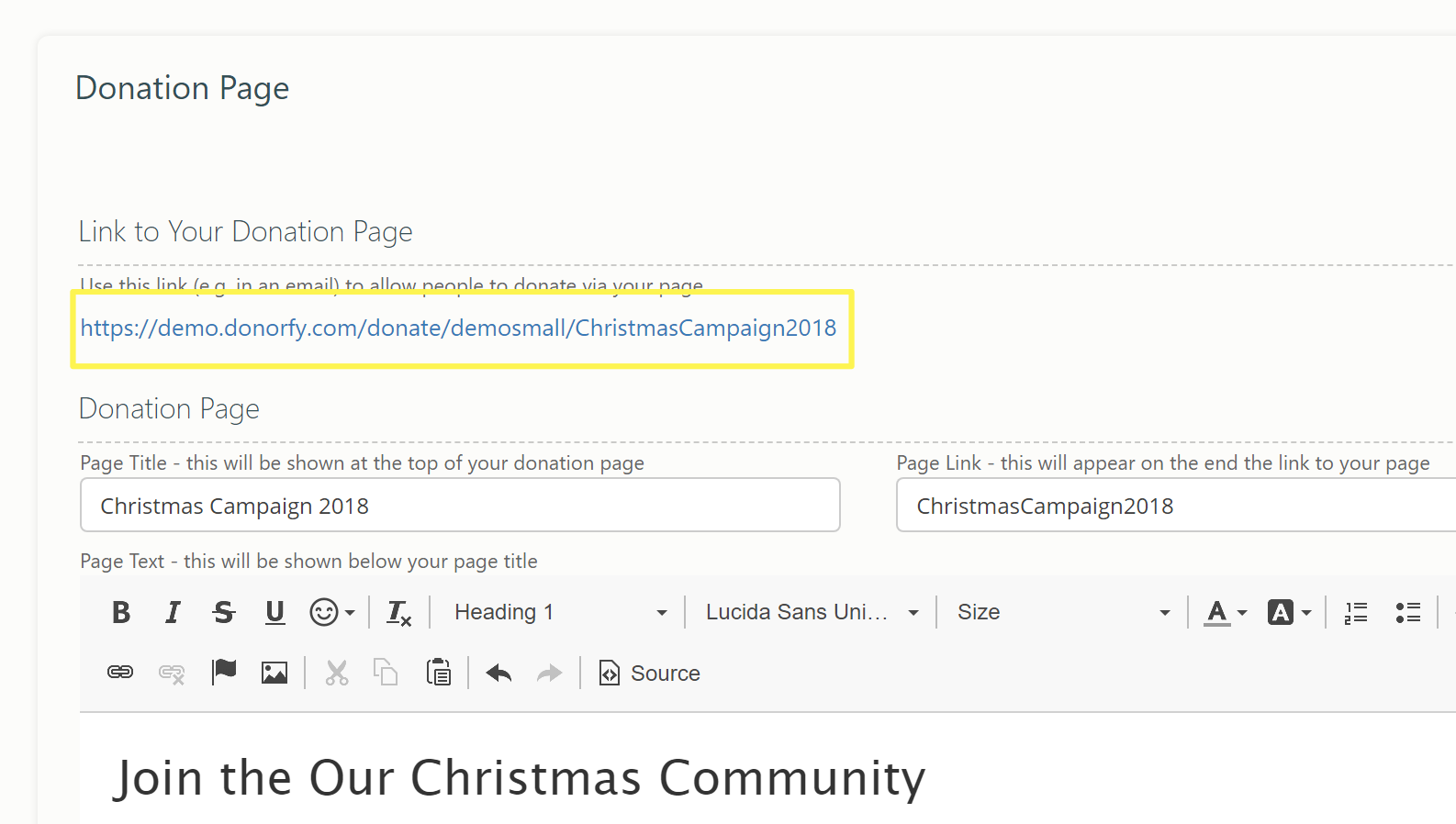 Donations received via your Campaign Donation Page can be viewed on the History tab under Financial > Online Donations