If you are running a mailing campaign and you want to tailor the message and/or channel you use for different groups of people you can segment your database.
In Donorfy
Campaign Members are all the constituents that you may contact as part of your campaign
Campaign Segments are the groups into which your campaign members are organised - typically you send a different message and/or use a different channel for each segment - you can have as many segments as you want
Requirements


Campaign Segmentation is a Professional-only feature. Essential subscribers, please contact us to find out more about upgrading.
Setting Up Your Lists
You can create new lists or use existing lists - if you need more information about lists please search the knowledge base
Campaign Members

You will need a constituent list that contains Campaign Members - i.e. everyone you might want to contact as part of your campaign
The 'Contact details to use' for your list should be set to 'Use default but apply any exceptions for Campaigns'
Often the filter you use for your campaign members list will be quite general (e.g. All active individual constituents) - you will use the lists for the segments to focus more tightly on the constituents you want to contact

Segments

You need a list for each Segment - this can be any type of list that contains constituent details - e.g. constituent, transaction, activity lists.
From 15/09/21 The Campaign Members download will contain additional fields from a constituent list appended to the standard exported fields.
To be included in the campaign a constituent has to be in the Campaign Members list - this means your segment lists do not need to include the same filter(s) as the campaign members lists - for example suppose

Your Campaign Members list included only individual constituents
if your first segment needs to contain everyone who had made a donation this year the segment list does not need a filter to check that the donation was made by an individual constituent (as the campaign members list is performing that check) it needs a filter for Total Amount this Year > 0
Setting up your Campaign
You can use an existing campaign or create a new campaign
Click on the Campaign Members tab and select the list that contains the campaign members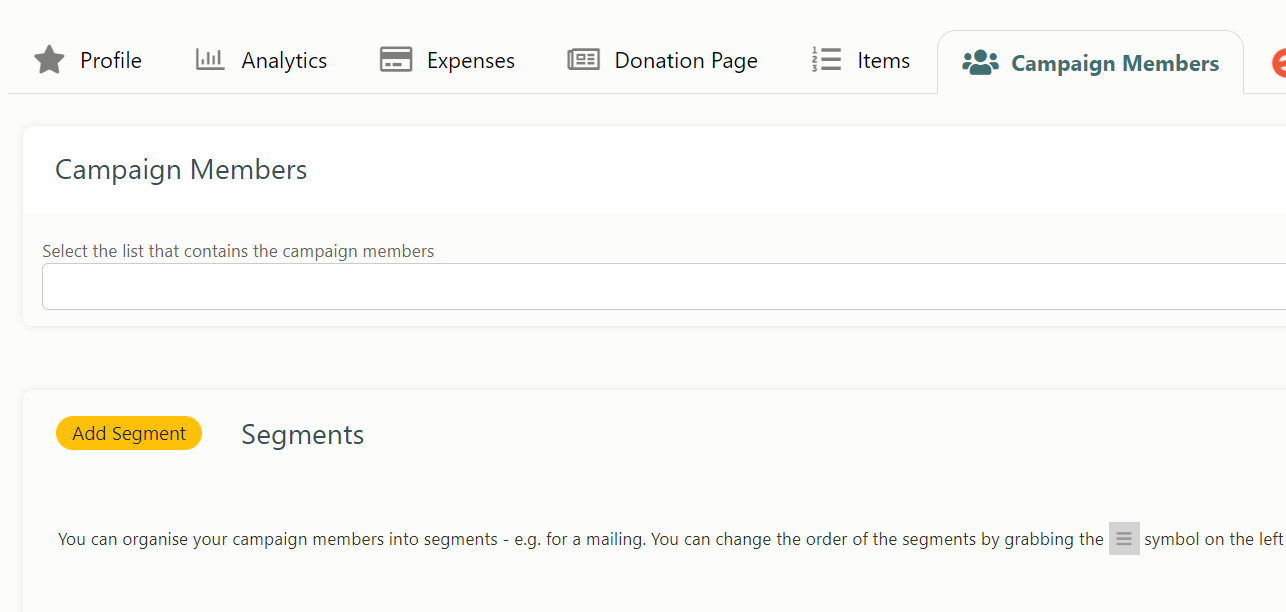 Next in the Segments section of the Campaign Members page press the Add Segment Button, then

Choose the list you want to use for the segment
Change the Segment Name if required
Enter the Segment Code - see below for more information

Add as many segments as you need
You can re-order the segments as required
Building the Segments
Once you have setup your campaign press the 'Rebuild Segments' button
Donorfy will start working out which constituents belong in each segment. Segments are built in the order they appear in the list of segments - constituents are included in the first segment they match.
If you have a lot of constituents in your Donorfy building the segments might take a while - Donorfy will send you an email when the segment build is complete.
The total number of constituents in each segment will be shown against each segment.
Any constituents that are on the Campaign Members list but were not included in a segment will be excluded from the download files produced. If you want a 'catch all' or residual segment you can add a segment that uses the same list as the Campaign Members list - include this segment as the last one in your list.
Preparing the Download Files
Once you have built the segments and are happy with the numbers in each segment you can prepare the download files which will contain the details of the constituents in each segment.
Press the 'Prepare Download Files' button to decide if you want to
Create separate files for each segment
Add activities to constituent's timeline
Then press the Prepare Download button
Donorfy will check the communications preferences for each constituent and apply any Campaigns exceptions that are set up, if there are no Campaigns exceptions the default contact details will be used - this is based on their Preferred Channel.
Where a constituent has a Preferred Channel of Do Not Contact - no personal contact details will be provided
Where a constituent has a Preferred Channel of Email - the email address associated will be provided
Where a constituent has a Preferred Channel of Main - the mailing address will be provided
Downloading the Files
Once the files have been prepared you can click on the Download Segment Files button to download files.
Segment Codes
Segment codes are
Included in file name of the files produced by Donorfy - so you can identify which file is which
When you download the campaign segments you choose to Add Activities to the Timeline for the constituents downloaded - the segment code will be stored in Activity added