If you have a membership or friends scheme where one constituent can gift or pay for membership for another constituent who gets the benefits you can setup the Recurring Payment Instruction (RPI) or Transaction that pays for the membership to show this.
You would most likely use a RPI when the membership is on going - e.g. a monthly paid direct debit, you would use a transaction when the membership is a one off payment - e.g. by payment card for an annual membership.
When entering or editing the transaction or RPI under the allocation you will find an 'Add Beneficiary' button - you need to press the arrow - highlighted in red - to show more details of the allocation - as shown in the example below. The Add Beneficiary button allows you to find the person or organisation that will benefit from the RPI or transaction - you can enter any message associated with the beneficiary in the comments field.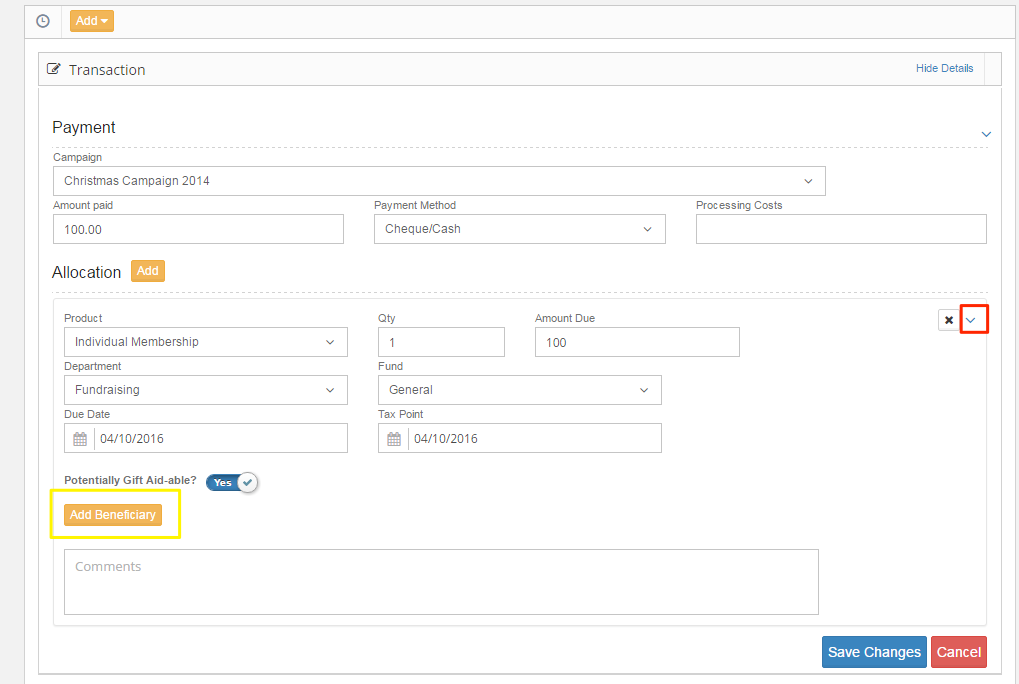 The RPI or transaction will appear on the timeline of the beneficiary - as shown below

Lists
When you you create a Transaction List you can filter and include beneficiary name and address information - use the column selector button (see screen shot below) to include beneficiary information and optional the comments.
If you want to list beneficiaries linked to recurring payment instructions you should use a Recurring Payment Beneficiaries List as Recurring Payment Instruction Lists do not include beneficiary information 
In both types of list the beneficiary name and address information is prefix with Beneficiary - e.g. Beneficiary Last Name