You can use Donorfy to track invitations, attendance of, and contributions from challenge events that your charity may run, such as the Marathons, walking events, sports, and more.
To do this the event will need to be represented in Donorfy by a Campaign. This enables you to track income against a target, costs and various metrics such as ROI and net contributions.
Set up a Campaign for the event
A campaign will enable you to associate everything that needs to be tracked with the event. Create a campaign any time by clicking on the orange Add button, and under Fundraising, click Campaign. Here's one for the London Marathon: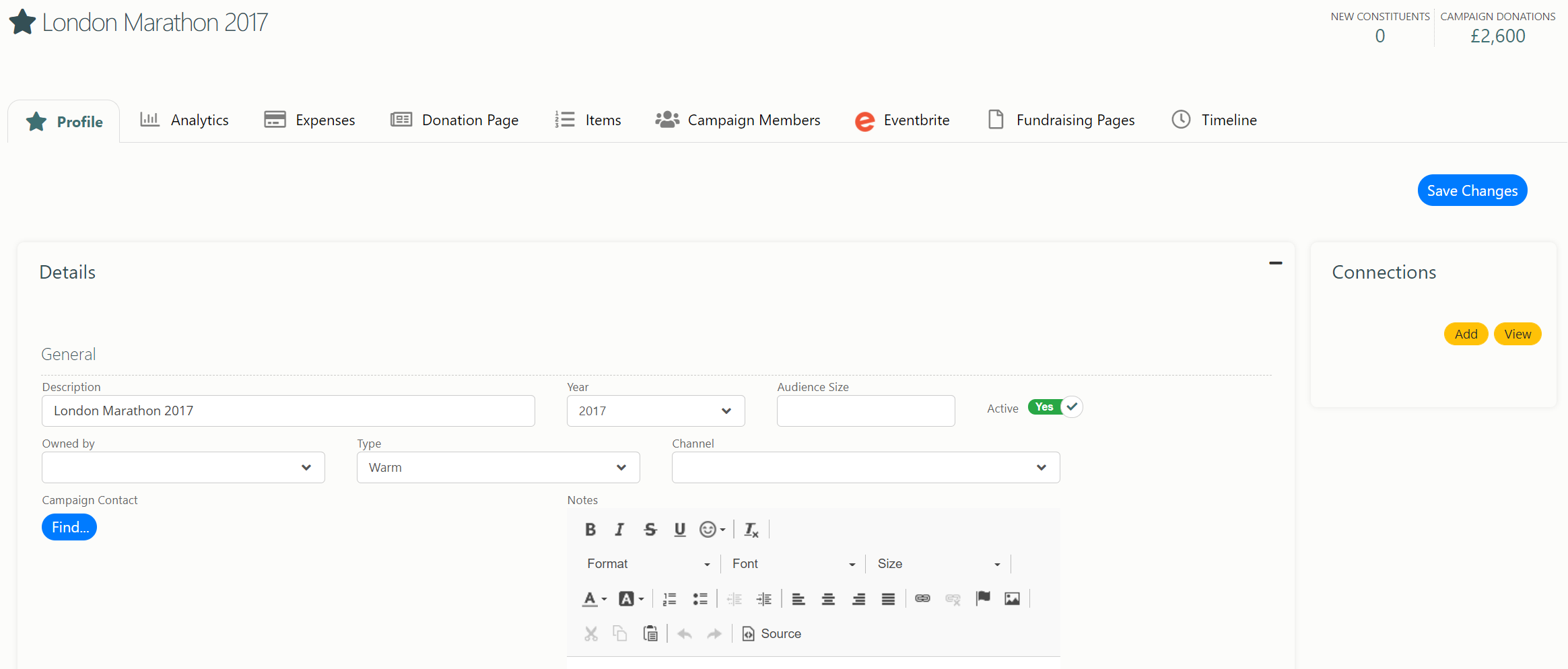 Note that apart from the campaign name you can also specify the number of constituents that you wish to attract, and the financial transactions goal.
Registering interest and participation
When you know that someone is interested in participating in a challenge event, you will need to record that as an Activity in their Timeline. This will enable you to produce lists of participants later. The Activity Type can be generic for all kinds of events they are entering. For example Challenge Event Registration. The Activity Type needs to be set up first by a Donorfy Admin.

To add the Activity click on the orange Add button, under Timeline click on Activity. Select the correct activity type and campaign from the dropdown lists, and complete the form. Activities can also be imported using the Donorfy File Uploader - for example from a form on your website.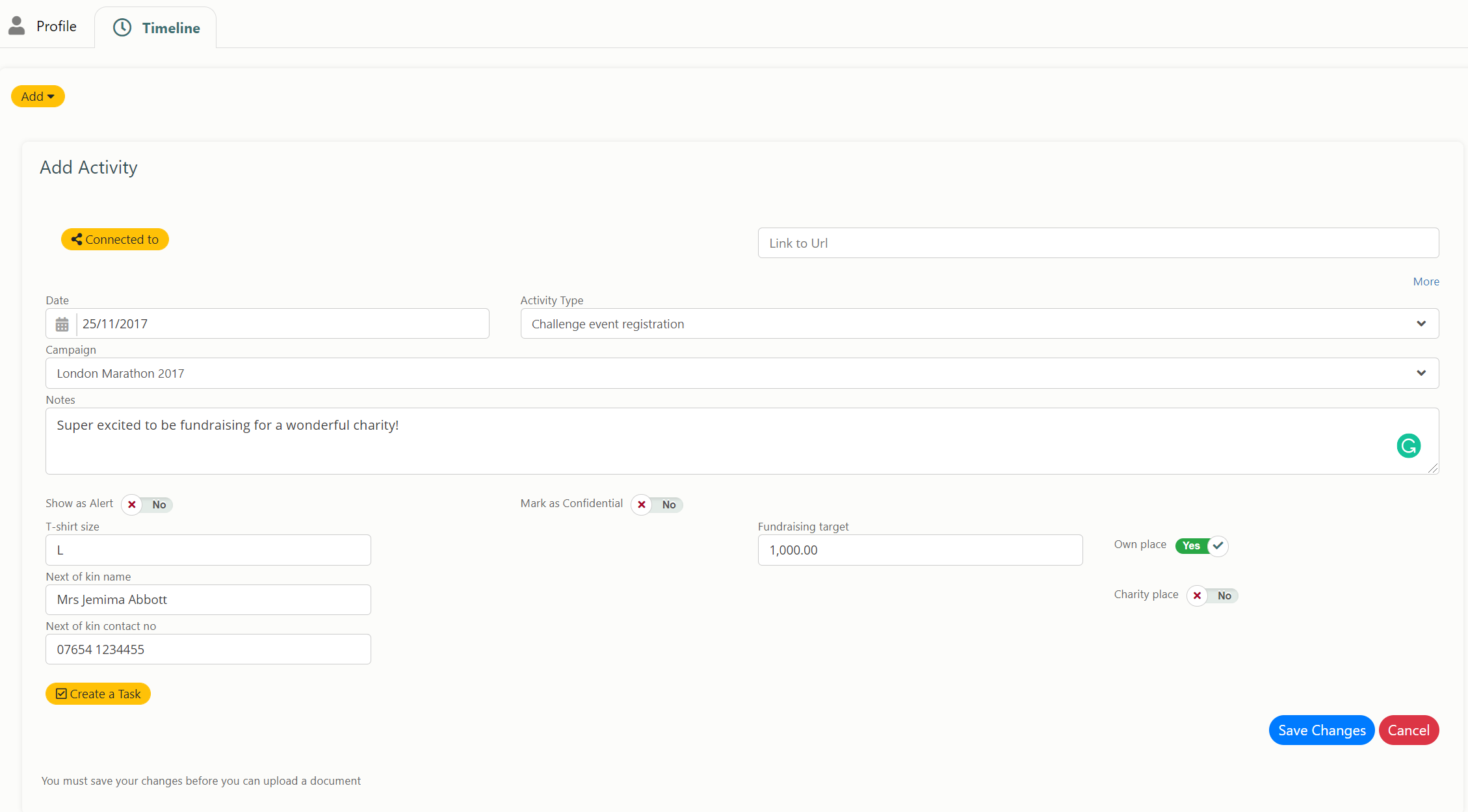 NOTE: this example includes custom fields - T-shirt size, next of kin details, fundraising target, and type of place. This enables you to track more information about their participation in this event. Please see this article for more info on setting up custom fields in activities.
Linking a JustGiving page to Donorfy
If you have activated the integration to JustGiving, Donorfy will update the database nightly with new fundraisers (participants) and the money they have raised on their pages. This article provides an overview and links to other articles on how an admin can set up the integration.
Getting a List of participants
To get a list of participants in the event you will need to create an Activity List. Do this by clicking on the orange Add button and under Lists select Activity List. This means you will get a list of Timeline Activities.
You will need to set the Filter for campaign and activity type so that it returns a list of the registrants for the event you want - such as:

Remember that you can use "starts with" as opposed to "equals" - so if you want a list of all participants to any London Marathon the filter would be "Campaign starts with London Marathon".
Once you have a list you can download them to a CSV file, to mail-merge them in Word for example.
Tagging them as a challenge event participant
At a later date, you may need to search for all challenge event participants. Or all runners. To do this you can tag the constituents based upon them having an Activity in their Timeline.
You do this when you are viewing the List results:
Click on the Tag icon - second icon from the left, at the top of the List results:




Select the Tag to add (this needs to have been set up first by an admin - see this article).


Click the Tag Constituents button (note - it may take a few minutes for the tags to show on the constituents' records).

You might want to do this more than once - first time to add a "Challenge Event Participant" tag, and again to add a "Runner" tag. It won't duplicate tags if they already exist on a constituent's record.
FAQs
Q: Should we add the sponsors to Donorfy, as well as the participants?
A: The JustGiving integration does not pull in the donor (sponsor) information. The feedback we have had is that they are more interested in supporting their friend/relative's participation in the event than the cause itself. However, if you want to bypass the JustGiving integration and enter everything manually that is fine. You can enter the donation against the donor (sponsor), and soft-credit it to the participant so that the donation can be seen on both Timelines.
Q: How do we prevent JustGiving income from being included in the Donorfy Gift Aid run?
A: You should make sure that the appropriate payment method is used. To prevent transactions being included in a Gift Aid claim use a payment method that does not allow Gift Aid - either in the JustGiving settings (if using the integration), or select the appropriate when entering gifts manually.