Within your Donorfy the system administrator/s are able to restrict access to different areas and features.
There are 3 main levels of user security permissions: Viewer, Standard, and Administrator. For the Professional Plan, there is more customisation provided within the Standard user permissions.
Donorfy Professional Plan
These are the user permissions you can set if you have the Donorfy Professional Plan. Please contact us to find out more about upgrading to benefit from this feature.
Viewer - this type of account can view data - but not add, change or delete it - they can also be given access to other features and data
Standard - this type of account can have access to features and data configured for them, they can add, change or delete data they have access to (but not Constituents)
Administrator - access to all areas of your Donorfy.
You also have the ability to disable logins for any users who are currently inactive, perhaps because they have left your organisation or are currently on leave. This is a worthwhile step to help maintain the security of your Donorfy data.
When you choose a Standard or Viewer account type more options are displayed - see example below - set the options to Yes or No as you require - you can click on the blue question mark icon for a description of the option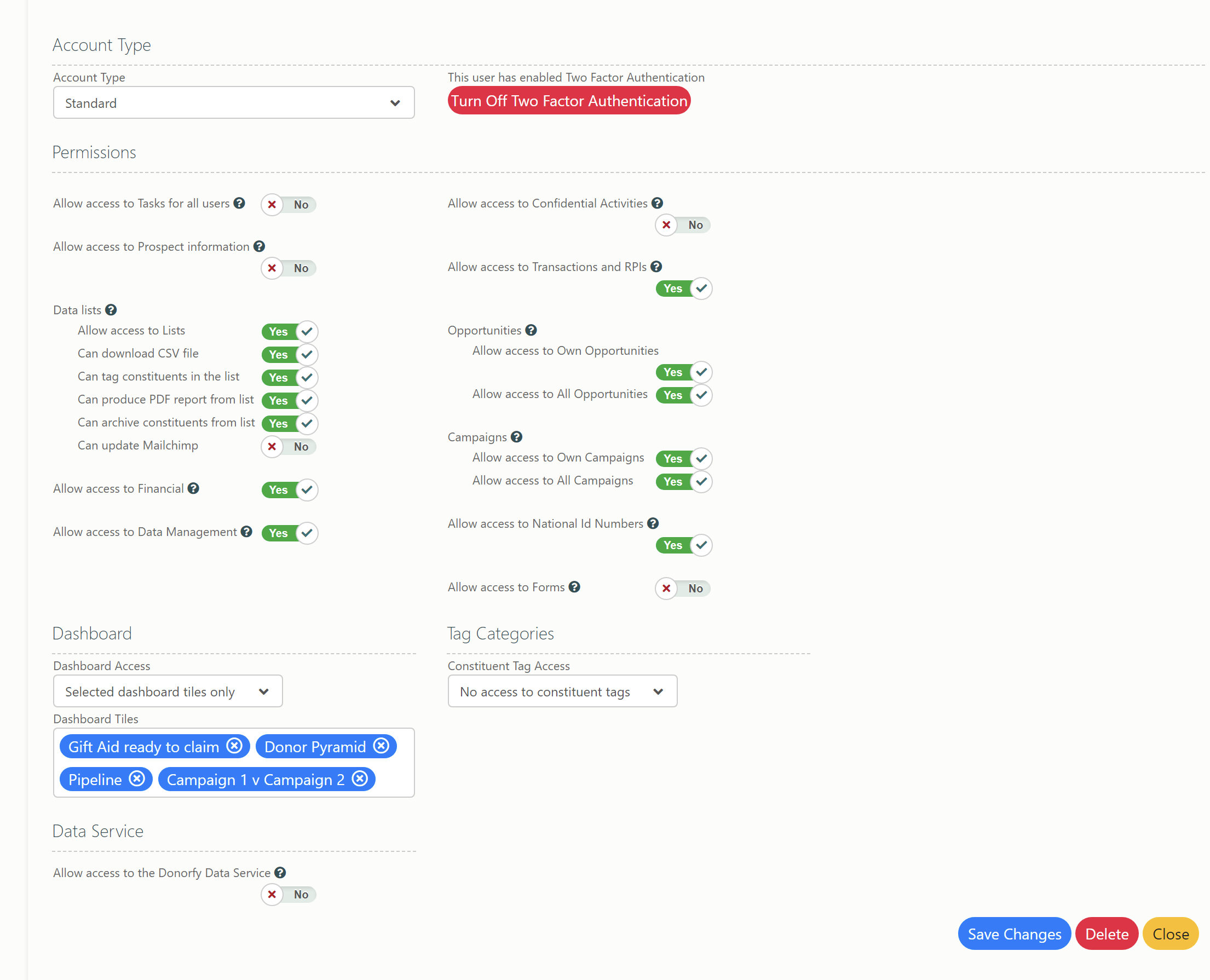 The settings under
Dashboard Access - allows you to set which items a user can see on their dashboard
Constituent Tag Access - allows you to set which constituent tags a user can work with
Data Service - allow you to permit the user to use the Donorfy Data Service
The difference between a Standard User with all items granted access and an Administrator will be that an Administrator has more security and system config focussed access:
Config and data management:
Settings > Configuration access
Delete function
Triggers
Duplicates
Security:
Inviting new users to your Donorfy
Two-Factor Authentication control
ChangeLog view on a constituent profile
Donorfy Essentials Plan
Users whose account type is Administrator can access all Donorfy functions including configuration and invite, change or delete users.
Standard users can access all Donorfy functions except configuration and functions related to users.
Setting User Permissions
To set up user permissions click on Users under Settings in the left-hand menu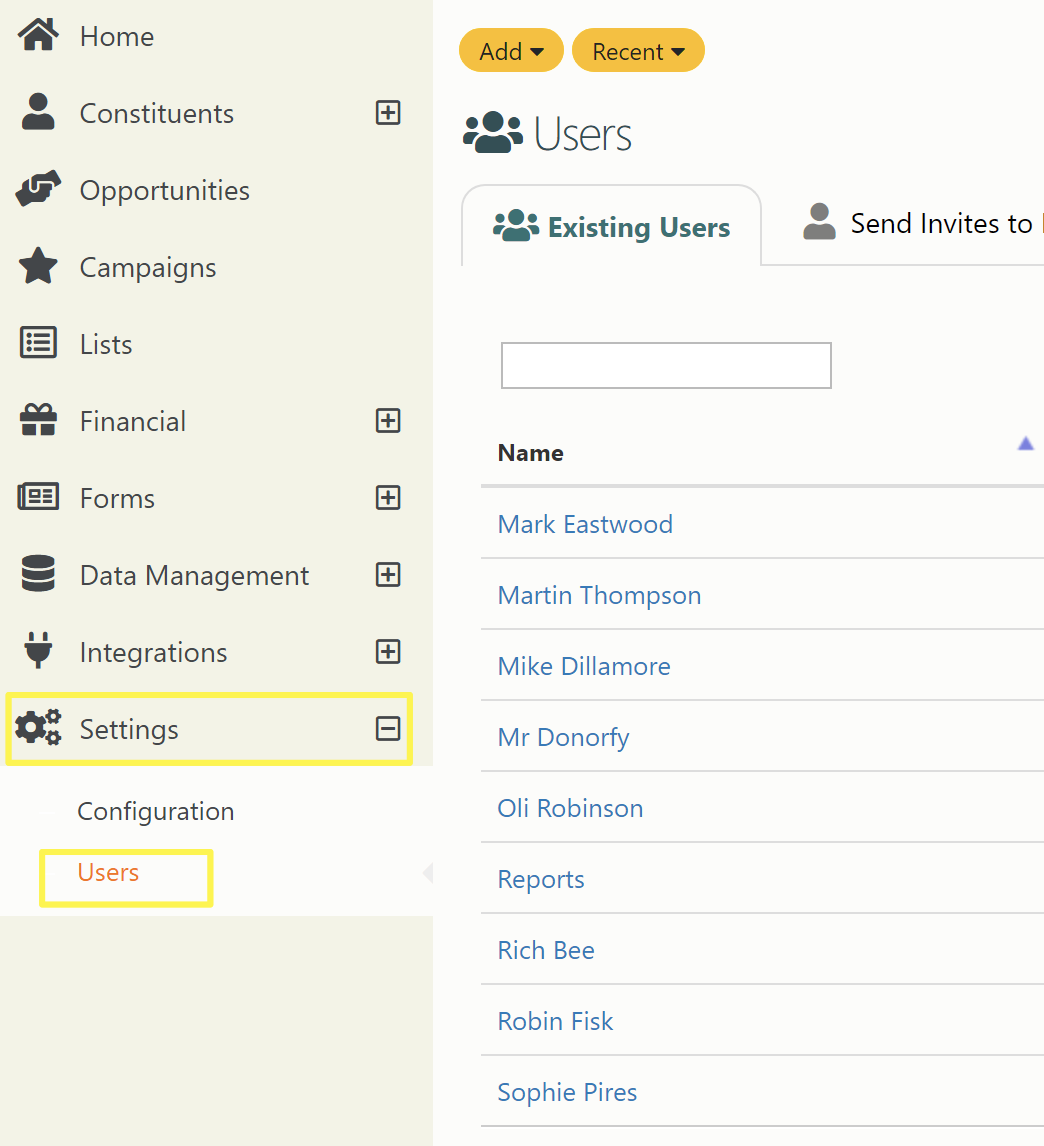 Click on the name of the user to open the user form - depending on the account type you will see different options (detailed above). Select the access permissions for each user in turn and then save the changes.
Users whose account type is Administrator - as shown below - have full access to all features except the Data Service - you can change the dashboard tiles they will see under 'Dashboard Access'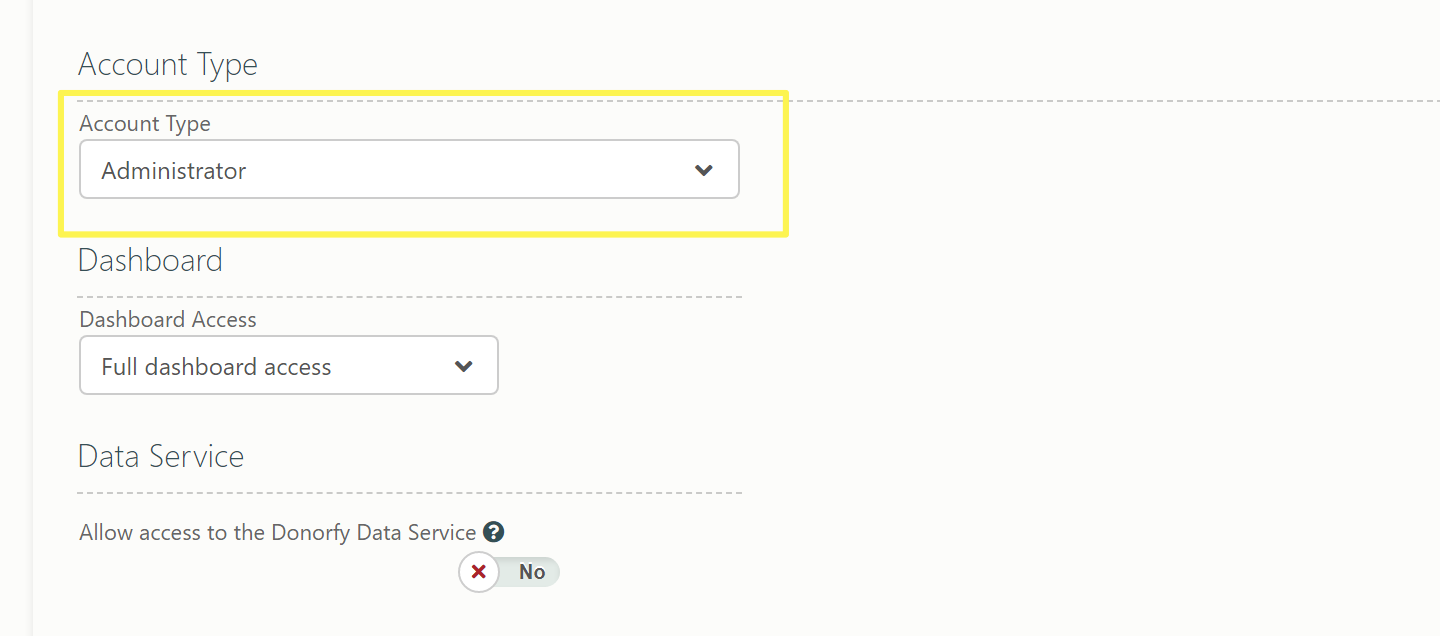 Keywords User permissions