Admins can set Defaults and Mappings in Settings | Configure | Xero Settings. You must have first connected Donorfy to your Xero account - see this article.
Mappings allow you to control how your analysis codes in Donorfy are mapped to their equivalents in Xero. Defaults apply when specific mappings do not exist - a fallback mapping.
NOTE: the "accounts interface codes" that you can set in Products, Funds etc are not used by the Donorfy-Xero integration. They are used for other accounting systems in the Accounts Download feature.
Default mappings tab
Defaults are applied if no specific mappings exist. The dropdowns contain values from your connected Xero account.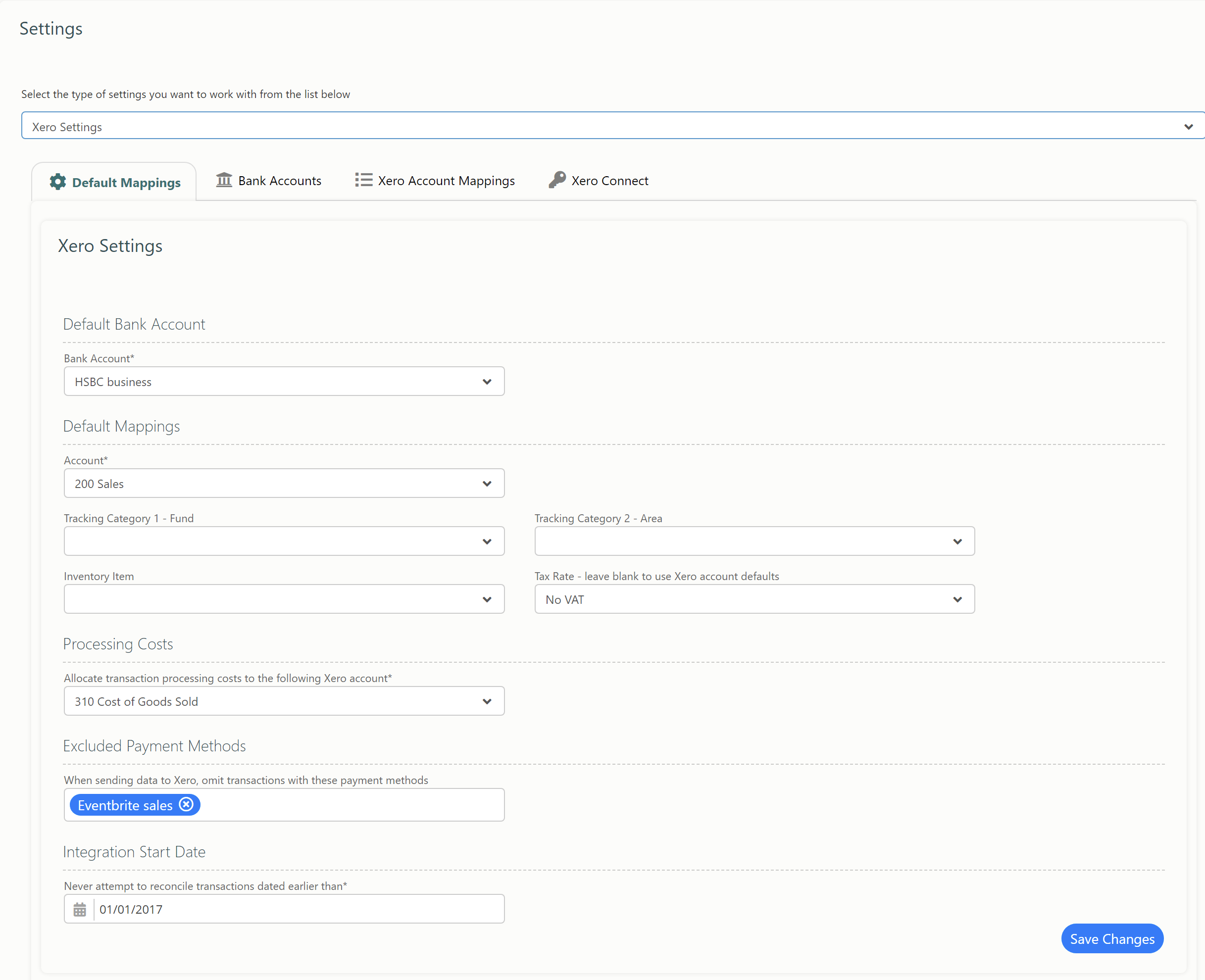 Excluded Payment Methods enable you to stop certain Transactions from ever being sent to Xero - for example Pledges (where there would be no corresponding bank transaction) or Grants (which may have had invoices created for them in Xero, so you wouldn't want to double up with a Receive Money item).
Integration Start Date allows you to specify the date from which Transactions in Donorfy can be selected for sending to Xero. This is ensure that if you are just configuring this features but have lots of historical Transactions they are not sent to Xero.
Bank Accounts tab
If you run multiple bank accounts in Xero you will need to map the corresponding Bank Account from Donorfy to those accounts in Xero.
This page lets you create those mappings. Add a mapping by clicking on the "+" button.
Only bank accounts that match the default Transaction Settings Default currency in Donorfy will be displayed.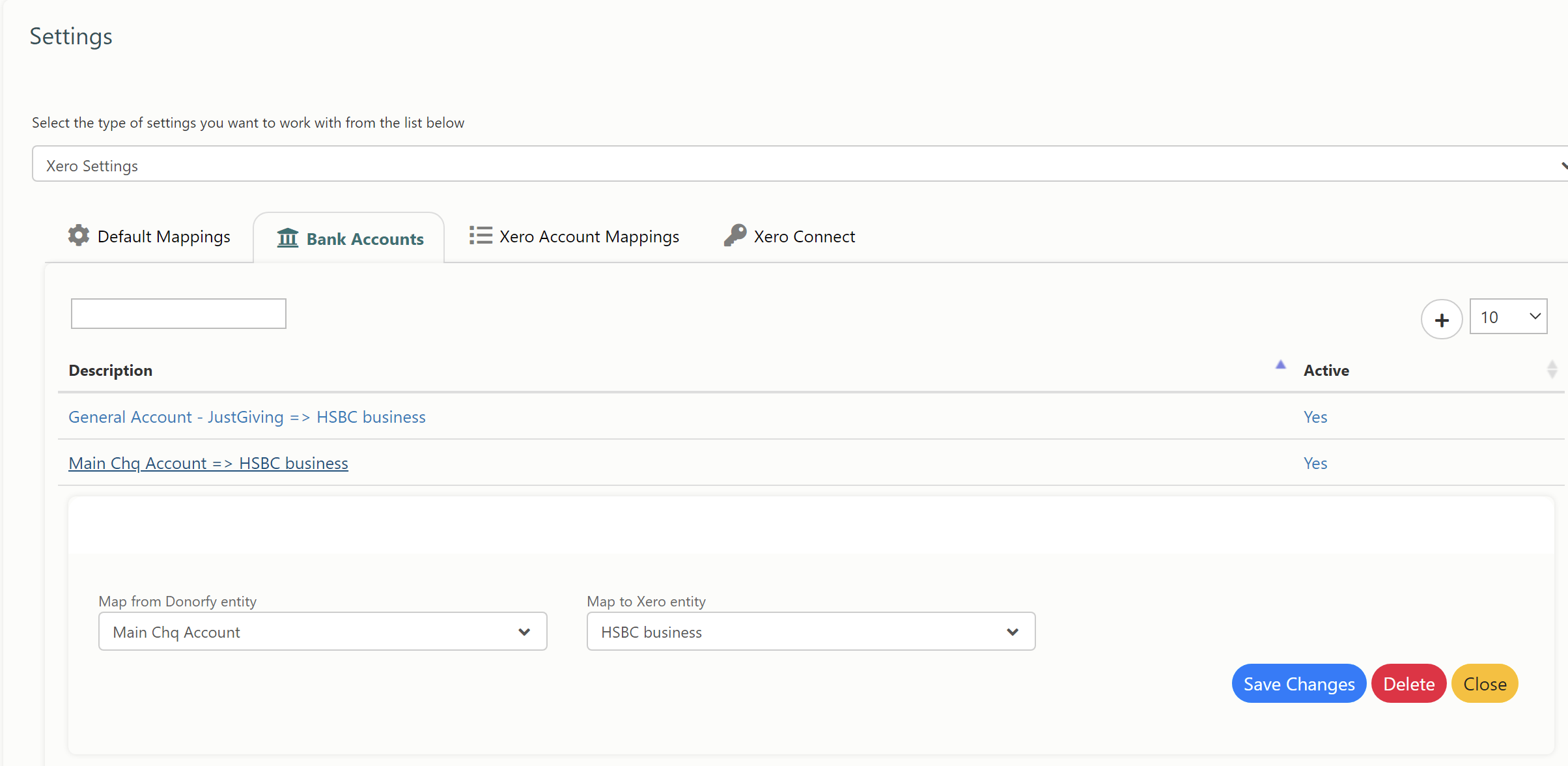 Xero Account Mappings tab
This is where you can map the relationships between specific entities in Donorfy and their corresponding Xero entities. To add a mapping, click on the "+" button.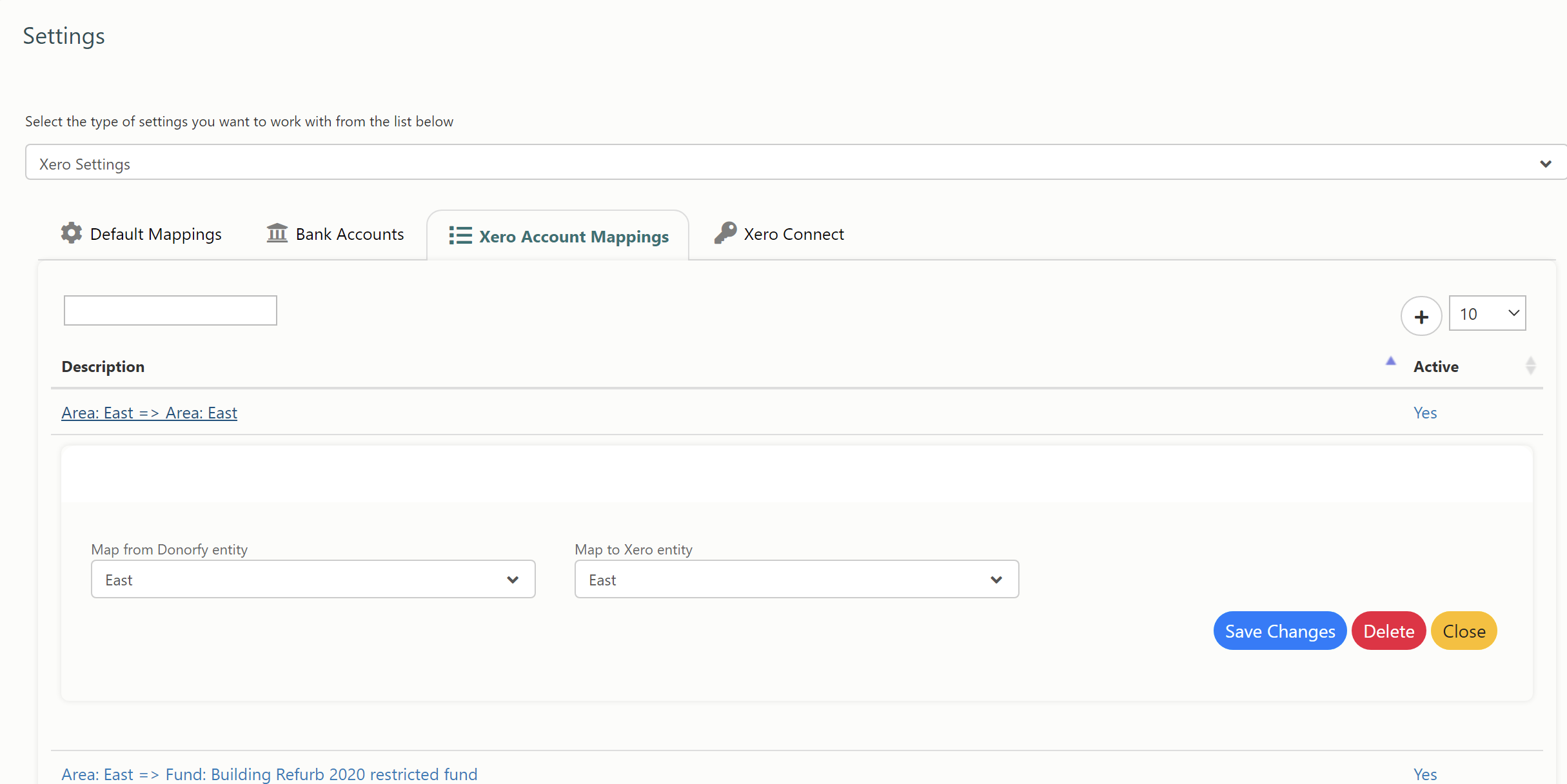 The first dropdown is the Donorfy entity - you can select from all of your Campaigns, Products, Funds, Departments, Payment Methods, Constituent Types, Areas and Regions. The next dropdown lets you select the corresponding entity from Xero. These can be Account (revenue accounts are shown), Tracking code 1, Tracking code 2 and Tax Rate.
You can have any number of mappings. Where there are conflicting mappings - for example two mappings for the same Donorfy entity to the same entity type (but different values) in Xero - the mapping that was entered last in Donorfy will take priority.