All of the main navigation in Donorfy is done from the menu bar to the left of Donorfy. Depending on your user level setting that has been given you by your Administrator, it will look like this:
The view below is based on am Administrator view: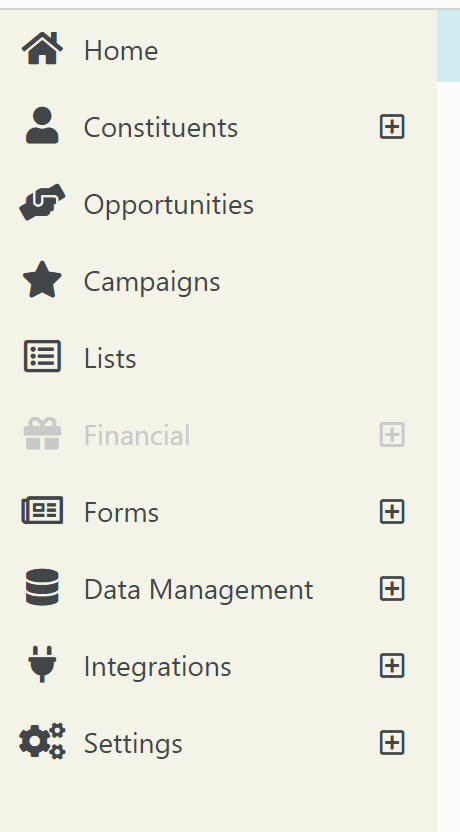 To open each area, click on the plus symbol. This will reveal a sub-menu

To jump into the section you need, just click on the link and it will open in the main screen.
On the top bar of Donorfy, you will find 2 orange buttons - these are as follows

Add - Opens up a selection of items that you can add to Donorfy:
Constituents - add a new constituent. These are your available Constituent Types
Lists - create a new List
Fundraising - Add a new Campaign or Opportunity
Timeline - add a Timeline entry such as an Activity, Gift Aid Declaration, Transaction, etc. You do not need to be on the constituent profile who will receive the Timeline entry, you can add the constituent in when creating the entry.

Recent - bring up a list of Constituents that you recently visited. You can click on the Constituent from this list and it will open up the profile.
To the right of the top bar, you will the quick-search bar along with a Profile button containing your initials.


Clicking on the button gives access to
your profile details, including:

changing your name
resetting your password
enabling two-factor authentication
clearing of cache/ resetting your view defaults
re-opening of the Getting Started List for the Home section

your Notifications

Donorfy News
Task reminders
Duplicate checks
Gift Aid claim notifications
Suspicious Form Activity alerts

yoru task list link
in Donorfy guides
the Donorfy Support pages
the ability to Sign Out of Donorfy