How do I disconnect from Xero?
To disconnect from Xero you need to go to Settings | Configuration | Xero Settings, click on the Xero Connect tab and then click on the Disconnect from Xero button.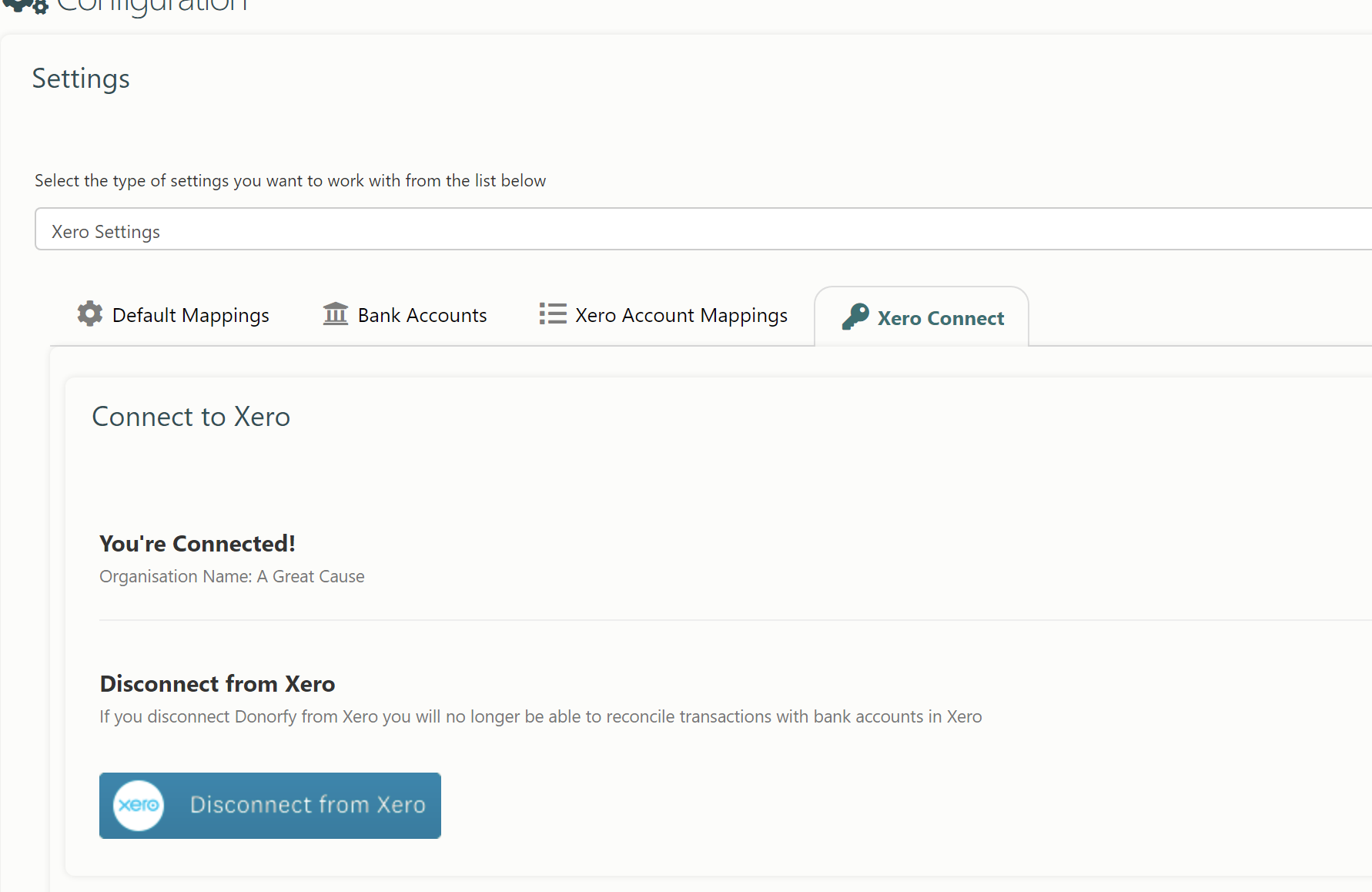 Disconnecting will mean you can no longer send Receive Money items to Xero. Mappings are preserved however, so when you reconnect they will still be there.
What doesn't the integration do?
The integration does not aggregate multiple Donorfy transactions into one Receive Money item.
The Receive Money items do not include a "payout reference" with which to match an incoming reference from the bank. This is because the payout from payment gateways can occur some days or even weeks after the transaction has been entered into Donorfy for thanking, therefore they are not on transaction when sent to Xero.
How do payment processing fees appear in Xero?
A payment processing fees are usually known by Donorfy at the time the transaction is created. So when the integration sends a transaction from Donorfy to create a corresponding Receive Money item in Xero the processing costs are identified in a Detail line as a negative amount. In this example a £1 donation has a 20p payment processing cost: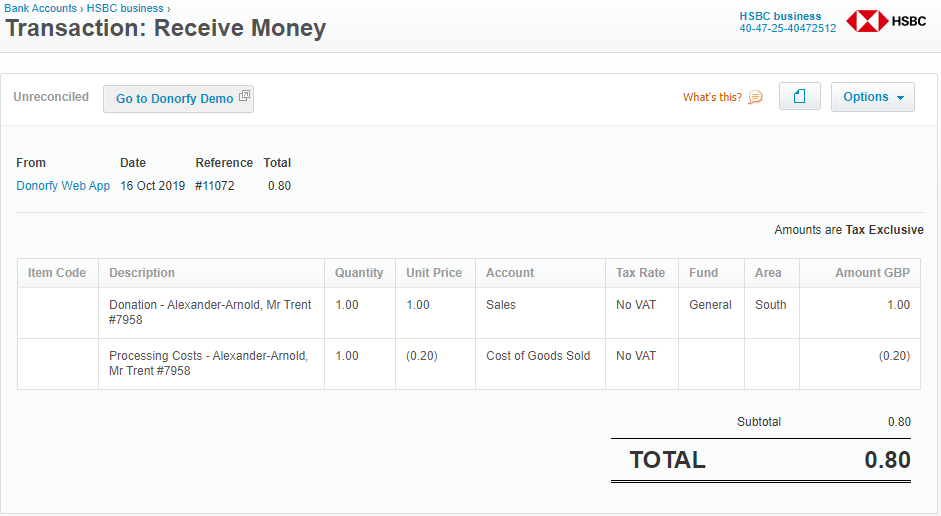 Processing costs need to be allocated to an Account - you do this in Donorfy in the Defaults tab in Settings | Configuration | Xero Settings.
How do I reconcile Receive Money items sent to Xero?
Reconciliation of a Receive Money item sent by the Donorfy integration to a bank statement line is the same process as for any kind of reconciliation. The instructions for this are in the Xero knowledge base
When and how does the data sync occur?
The data sync occurs on-demand from the Financial | Xero option on the left-hand navigation: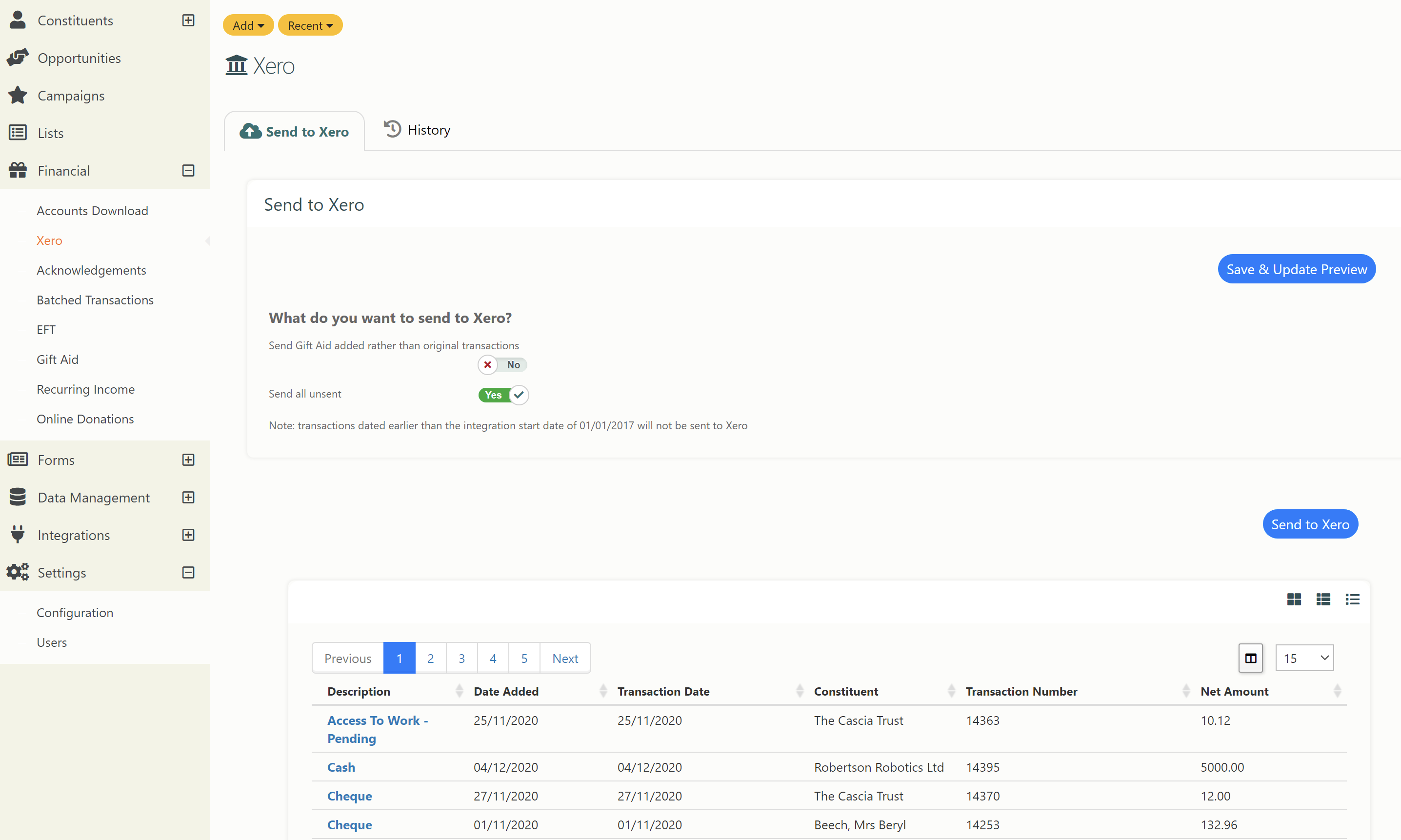 The data sync is not automated - you need to click on the Send to Xero button and it will send all the transactions shown in the preview. This is to allow you to view what will happen before populating Xero with Receive Money items.
What dates does the integration use?
The integration uses the Date Added date to select the transactions that it needs to send to Xero rather than the Date Paid, Date Due, Transaction Date or Accounting Date. This is so the most recent transactions to Donorfy can be located easily rather than having to backdate the dates to another point in the year or previous years.