You can view the specific Donate Buttons and Fundraisers from which donors have made their donations in the Integrations > Facebook Giving Tools > Fundraisers and Donate Buttons tab.

A list of your Fundraiser and buttons will be displayed, along with some summary detail.

Expand the Fundraiser/Button by clicking on the description - a box with two tabs will then appear:

Clicking on the Fundraiser/Button hyperlink will navigate you to that Fundraiser/Button in Facebook or Instagram.
You may wish to edit the Fundraiser/Button in order to:
specify the target
change the attribution of past and future donations away from the defaults
To do that, click on the Edit button to the right of the page:

A form will open up enabling these to be edited - the details displayed will be the defaults as per your settings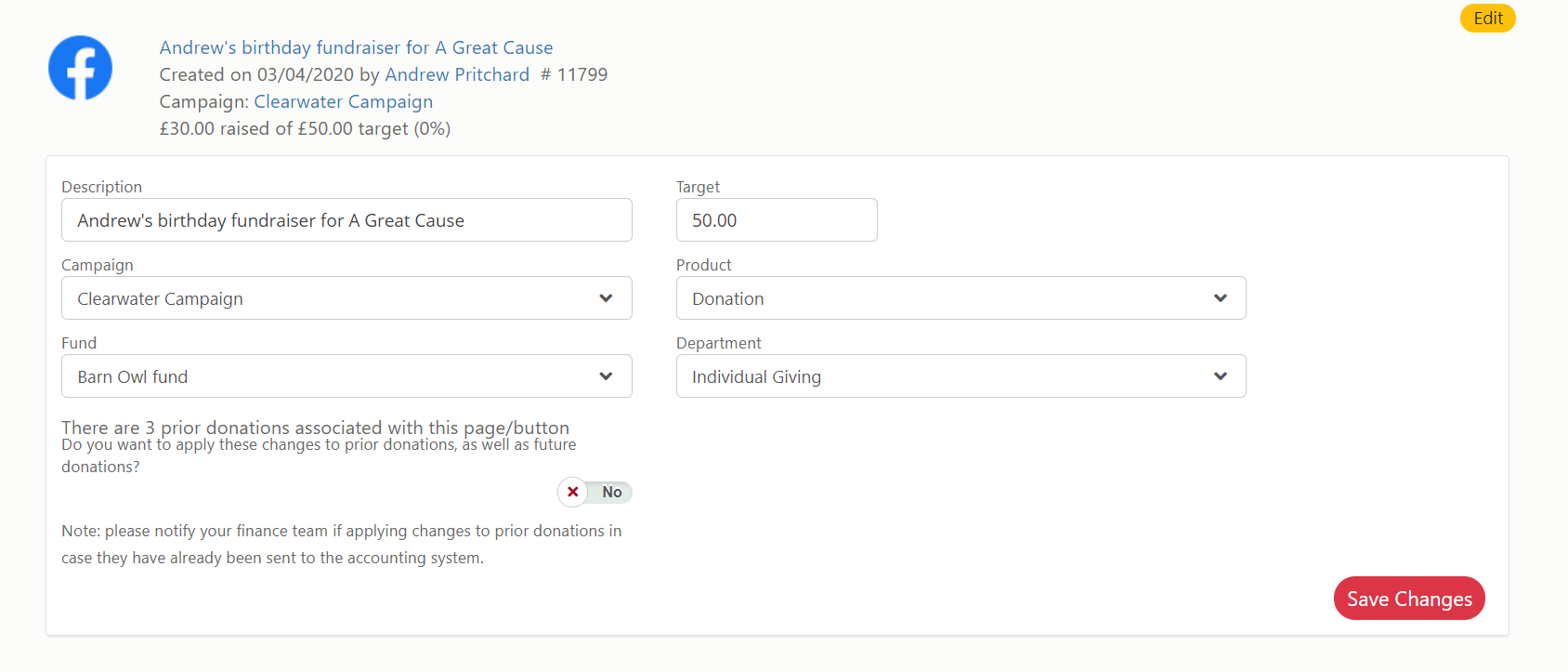 If you change the attribution of the donation you are given the option of changing prior donations against that Fundraiser/Button, or leaving them alone so that only future transactions use the new codes.
View Donations from Fundraisers and Donate Buttons
A list of donations made via the Fundraiser or Button is available via the Donations tab.

Clicking on the description takes you to the donor constituent record within the same window - top tip: right-click on the link and open in a new window so you can still have the Facebook Giving Tools open.
You can add additional detail to the Donations view by clicking on the field selector tool to the right of the page:

Reassign a Fundraiser to another constituent
It is possible that you wish to "move" or reassign a fundraising page from one constituent to another. It may have been associated with the wrong constituent for example. To do that:
Find the constituent who currently owns that Fundraiser
On the Constituent Profile, find the Fundraising Pages panel, and click the Reassign button.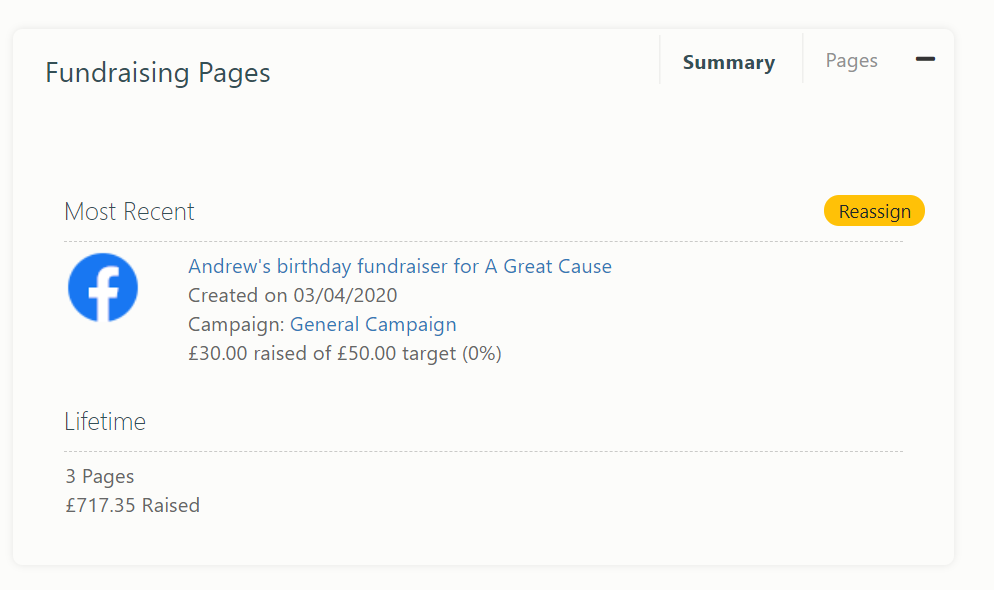 Note: this can only be done on the latest Fundraising Page (JustGiving), Fundraiser or Donate Button (Facebook).
Lists of Fundraisers and Donate Buttons
You can create Lists based on Fundraising Pages.
Fundraising Pages in Donorfy is a catch-all term covering the Fundraising Pages created by the JustGiving integration, and Fundraisers and Donate Buttons from the Facebook Giving Tools integration.