If you are not able to log in due to your password either not working or you've forgotten your password, you can easily reset the password by requesting a new one.
To request a new password from your login page (https://app.donorfy.com/)
Click on Forgot your password?


This will open a forgotten password page, which will request some further details:
Your email address
Confirm you are not a robot – this will ask you to click on images that are equal to the question you are asked
Once confirmation has been verified, click on Please email my password reset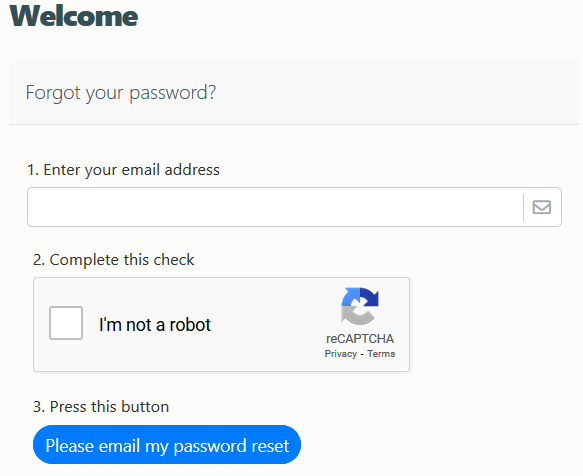 You will receive a password reset email to the email supplied (if it was a valid email) – if you can't locate it within your inbox the reset email may be filtered to your SPAM/Junk folder by your email system.
The email will provide a link for you to click on to create and confirm your new password. The password reset email is only valid for the day that it was requested and the link is valid for one-click only.
It is suggested that to open the link to reset your password that you right-click and open in a new window to help prevent a double-click when opening it.



The link in the email will send you to a password reset page, as shown below. You need to enter your email exactly as your login to Donorfy is (it's case sensitive):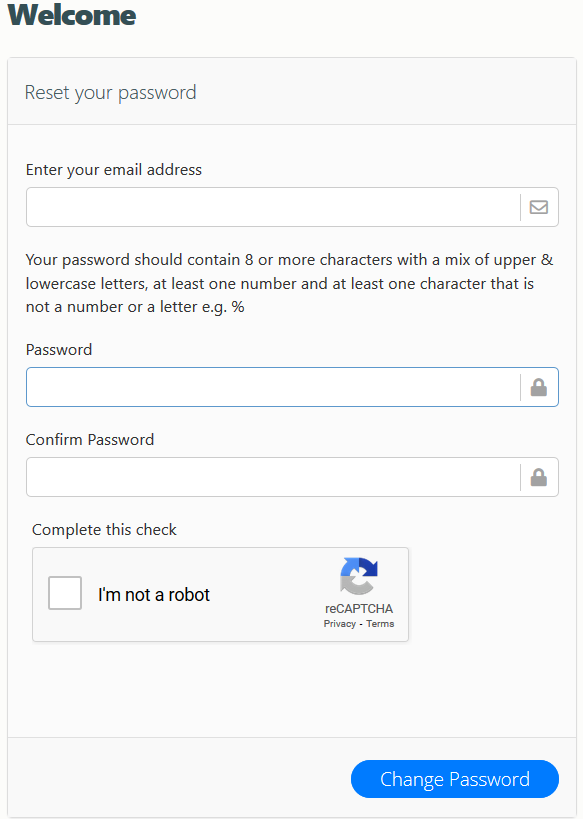 Enter a password that is 8 or more characters in length and is a mix of upper and lowercase letters. It must contain at least one number and a special character e.g. % or $ (but not a £ ), and confirm the password.

Next, confirm you are not a robot by ticking the box and completing the reCAPTCHA.

It will ask you to do this about 3 times. Then select the images it is asking you to find until there are no more of the images of what it's asking for is to be seen. Click Next/Verify. Occasionally the reCAPTCHA will not ask you to select images based on your previous movements on the webpage. #

This will confirm you are not a robot


Click on Change Password

You can now Sign In with your email address (case sensitive) and your new password.


If you haven't seen the reCaptcha screens, then please ensure that your pop-up blocker is switched off for this process. You can switch it back on after.