Where there are many potential duplicates found for a single constituent profile, these are then added to the All Matches section.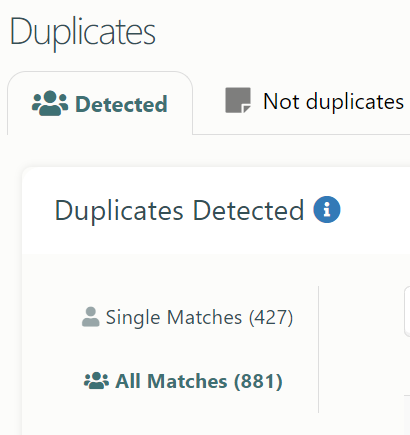 The All Matches section displays 10 duplicate sets on a single page and will notes how many potential duplicates there are within each set.
To resolve a duplicate where there is more than one potential match, you must select the constituent you want to be the target, i.e the constituent which is kept from the list of detected duplicates.
To start to resolve the potential matches click on the Start resolving box to list out all of the potential matches for that constituent

The results will display all the details you need, along with the Confidence Score, for you to make an informed decision on how to merge. Review the details of each constituent to determine whether constituents are duplicates.
For each duplicate pair, select an action or leave it as no action by default:
No action
Do not do anything with this pair for now.
Merge Right
The merge function will now only let you merge one way as there can be multiple merges done into the target.

Not duplicates
Mark this pair of constituents as not being duplicates. These constituents will not be matched against each other again in future duplicate checks.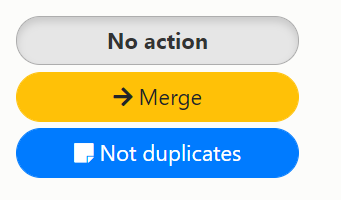 Where all matches are the same constituent and all are to be merged, there is also an option where you can select an action for all of the items for a particular set of matches, so you do not need to click on each item to set the merge action.
If you open the drop-down list for Select action for all - it will then provide the actions as noted above - once selected it will apply to all items in that set.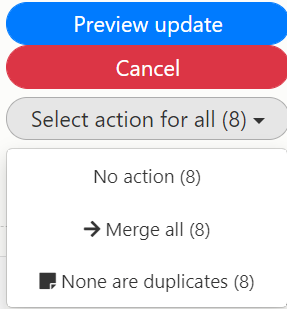 Once you have selected your actions hit Preview and update to be taken to the preview screen. You will be shown an overview of the actions about to be taken.
Confirm the choices you have made, or Cancel to go back and make changes.
To find out how to merge the Single Duplicates matches click here: Duplicates - Single Matches