Fundraising Pages are linked both to the Constituent representing the fundraiser who set up the page, and the Campaign for which funds are being raised (or a default Campaign as specified at Settings > Configuration > JustGiving Settings).
Enabling the Fundraising Page View on Constituent Profiles
To be able to see a Fundraising Page on Constitunmet profiles, you will need to ensure that it is active within the Profile View panel. To do this open Settings > Configuration > Constituent Types
Select the Constituent Type you will see donations coming in via (default will be Individual, but you may also have set up Major Donor etc).
If the option for Show all panels is toggled to Yes - great you need do no more.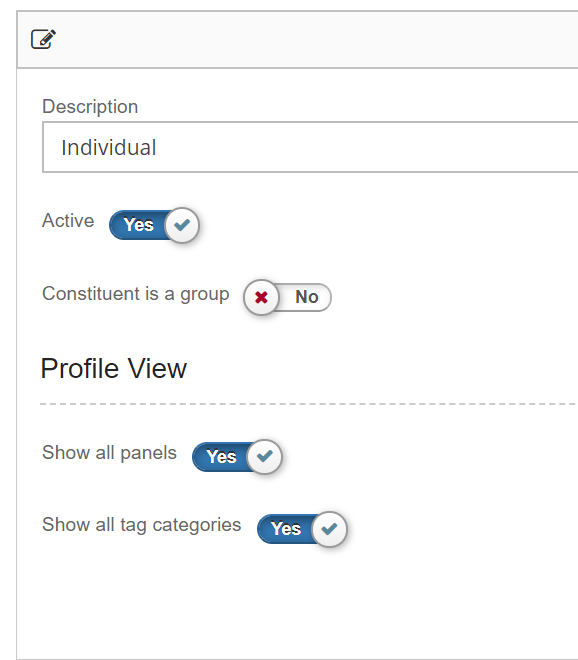 If not you can either opt to show all panels and Save Changes or add in the Fundraising Pages option by clicking into the Select panels to be shown box and then choose the Fundraising Pages from the dropdown box.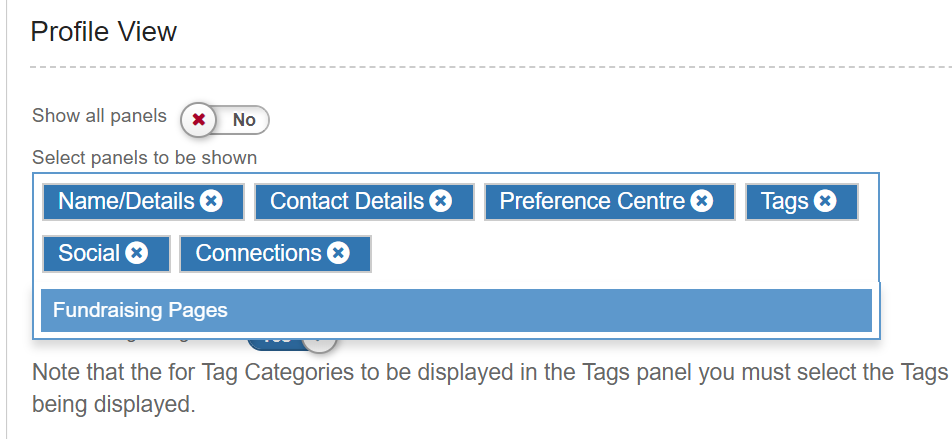 Next, click on Save Changes
The panel will now be displayed on constituent profiles.
Fundraising Page lists
Filtered lists of Fundraising Pages may be created by clicking the 'Add' button at the top of the main window and selecting Fundraising Page List from the menu.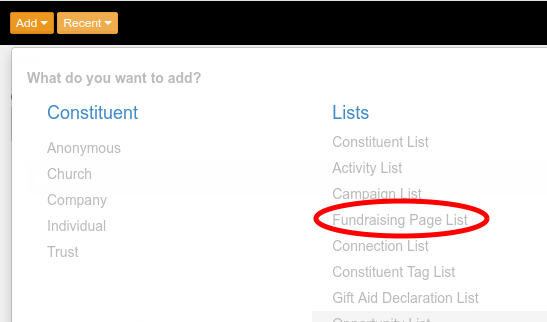 Fundraising Page lists may be filtered as with other list types in Donorfy: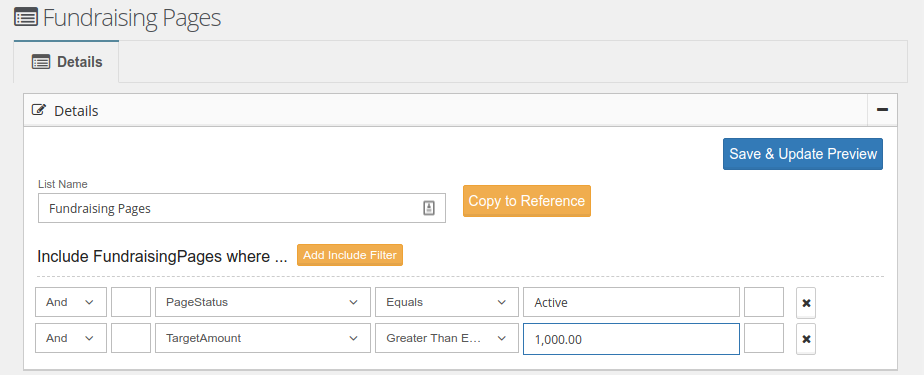 Constituent (fundraiser) views
The constituent profile view includes a panel showing both a summary of fundraising activity, and a list of all fundraising pages created by that constituent.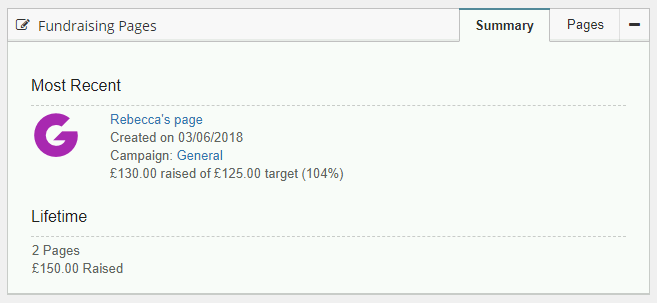 Campaign views
Campaign views include a tab containing a grid view of all linked fundraising pages, as well as campaign-specific settings for donations made via pages linked to the campaign.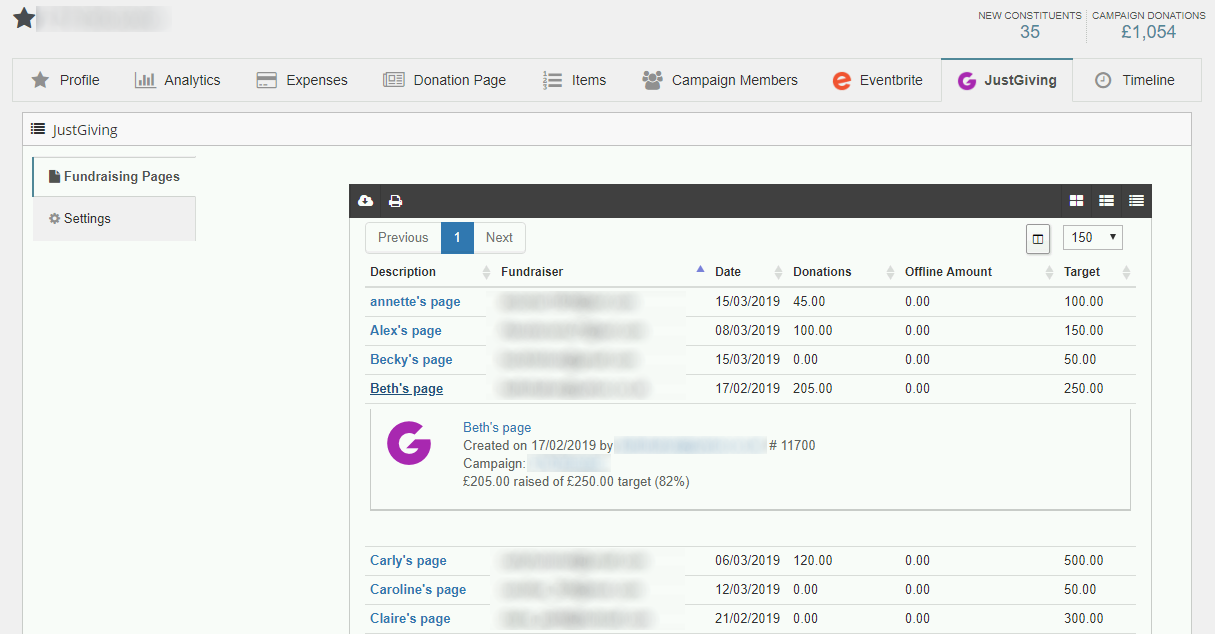 Tracking Fundraising Page creation
A new activity, linked to both the fundraiser and the campaign, will be added when Donorfy finds a new fundraising page. A filtered list of activities may be set up to show any recently created fundraising pages.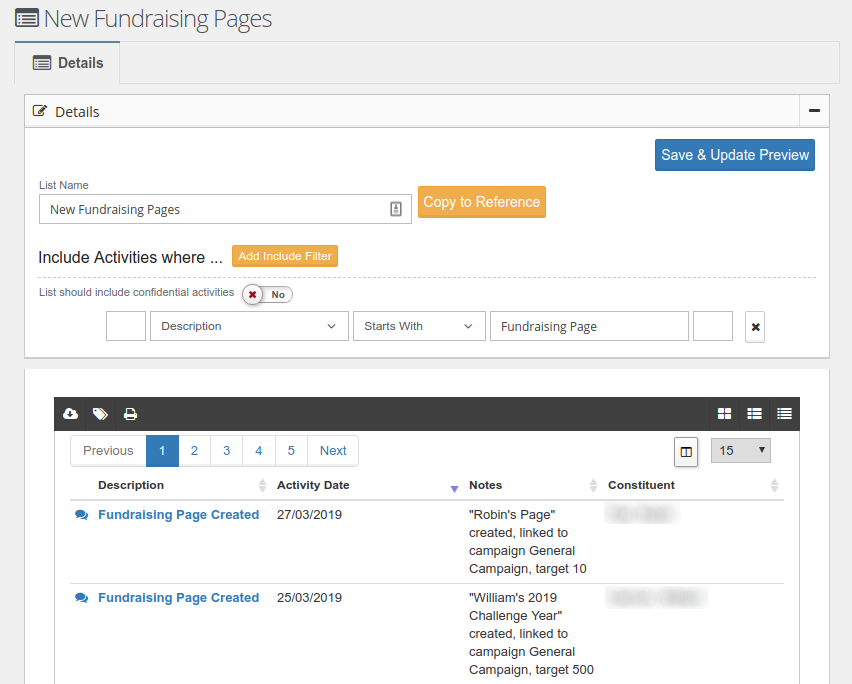 The Donorfy Academy features a learning course for JustGiving - enrol here