Overview
For maximum flexibility, there are several ways to configure mappings of JustGiving donation data when it is pulled into Donorfy:
Donorfy's main Settings area, i.e. Settings | Configuration | JustGiving Settings
Campaign-specific settings in Donorfy, configured via the JustGiving tab for the Campaign
For donations made via JustGiving Fundraising Pages, custom codes may be added to the page itself to determine how the page (and its donations) will be mapped into Donorfy
For all donations - whether direct or via a Fundraising Page - these will be mapped to a Donorfy campaign if one exists having an exact name match with the JustGiving appeal name for the donation
Default settings
Default settings for mapping JustGiving data into Donorfy are made via Donorfy's main settings screen at Settings | Configuration | JustGiving Settings.
The settings configured here include:
default transaction mappings for direct donations - i.e. donations not made through a fundraising page - and for fundraising page donations where no campaign-specific mappings have been defined
identification of a constituent to be used for mapping donations made anonymously in JustGiving
identification of a Purpose to be enabled or disabled according to the fundraiser's or donor's decision to opt in or opt out of further communications
Once the JustGiving integration is configured, this page shows at a glance the date Donorfy last tried to retrieve data from JustGiving, as well as the dates of the last donation and Gift Aid payments received and processed.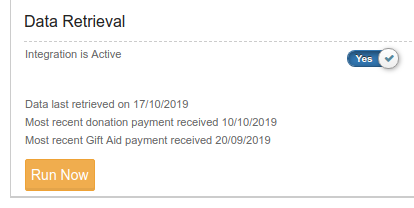 Campaign-specific settings
Fundraising Pages - and therefore donations made through them - may be linked to a Donorfy campaign by using the Settings accessed via the JustGiving tab for the campaign.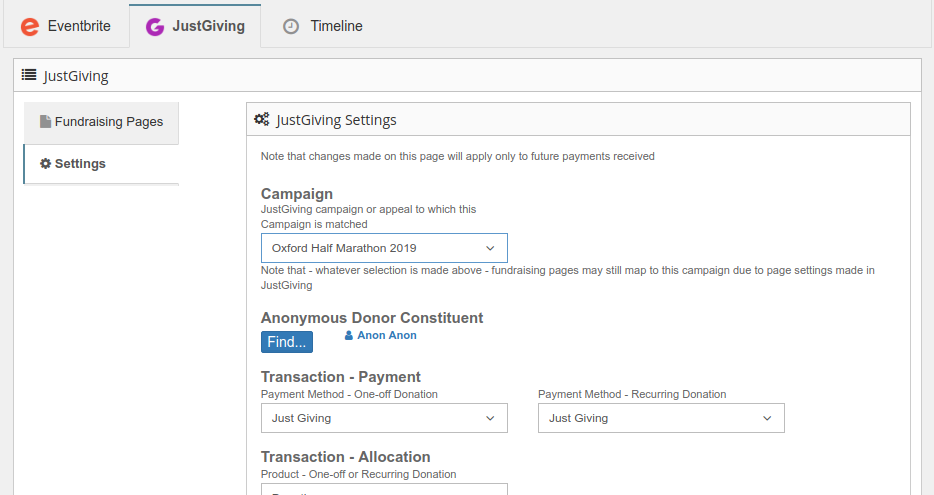 The Campaign dropdown will present a list of JustGiving campaigns and appeals identified from Fundraising Pages retrieved. Having chosen a campaign or appeal from this list, any future donations made through pages linked to the same JustGiving campaign or appeal will result in transactions linked to this campaign in Donorfy.
Note though that fundraising pages may still map to a Donorfy campaign via custom code settings made for the page in JustGiving, even where no setting is made via this dropdown in Donorfy. In such a case, the transaction mappings (payment method, product etc) made via this same Donorfy settings view will still apply.
Custom codes on JustGiving Fundraising Pages
JustGiving offers charities the ability to add custom codes to certain data, including fundraising pages - see this article (PDF). Donorfy has adopted the following convention for use of custom codes on fundraising pages, that will control how donations made via these pages are mapped to transactions in Donorfy.
Custom Code 2 - if defined, Donorfy will try to match this value to the name of a Department
Custom Code 3 - if defined, Donorfy will try to match this value to the name of a Campaign
Custom Code 4 - if defined, Donorfy will try to match this value to the name of a Fund
Custom Code 6 - if defined, Donorfy will try to match this value to a Constituent Number which will then be assumed to represent a Tribute Fund; donations against this page will then lead to transactions linked to the tribute fund
Settings made via custom codes in JustGiving will override any settings made in Donorfy.
Creating a strategy for mapping
We recommend you identify a strategy for mapping donations into Donorfy, and apply the same strategy for all campaigns and fundraising pages.
Any strategy will require default settings to be defined via Settings | Configuration | JustGiving Settings. To supplement this, you might choose only to use custom codes in Fundraising Pages, and not to make use of Campaign-specific settings in Donorfy. Alternatively, you might decide to use Campaign-specific settings in Donorfy, and not to use custom codes. For campaign mapping only, a third option is to ensure your Donorfy campaign names are identical to the corresponding JustGiving appeal/campaign names.