My list is syncing the same constituents each time, but non have any changes made recently
This may be due to an inconsistency in the data on their profile. The constituent first name, surname or email address may have a trailing space, or the email address may contain a space or have a double @. Once the trailing space is deleted and their profile changes saved this will rectify this issue.
My List syncs with Mailchimp but no updates are made
This may be because within your Mailchimp account a merge field has been set as mandatory. As Donorfy can't supply data other than First Name, Last Name, email address, Purposes and Tags it may be that the mandatory information that is required is therefore not available and the sync fails.
You may have received an email noting this after you have initiated a sync: The text on the email may look similar to the below:
· Title: Invalid Resource
· Type: http://developer.mailchimp.com/documentation/mailchimp/guides/error-glossary/
· Status: 400
· Detail: Your merge fields were invalid.
· Errors: FNAME Please enter a value : LNAME Please enter a value
The Errors noted will be the Merge fields that have been set as Required in Mailchimp, and therefore will need to be set as optional instead.
Your Merge fields in MailChimp should look like:

Or, you see an error line on your MailChimp History that reads:
SyncListToMailChimpService helper returned error Unable to find the resource at https://us10.api.mailchimp.com/3.0//lists/567obt280/segments/123456
This error message is pointing out that a mapping to a MailChimp segmentation (Tag/Group) can not be undertaken. This will be because a Tag or Purpose has been either deleted or renamed in Donorfy or MailChimp and the mapping has therefore broken. This will need to be corrected in Settings > Configuration > MailChimp Settings
Click on your linked Audience to open the mappings. You will see errors shown as 'undefined' similar to: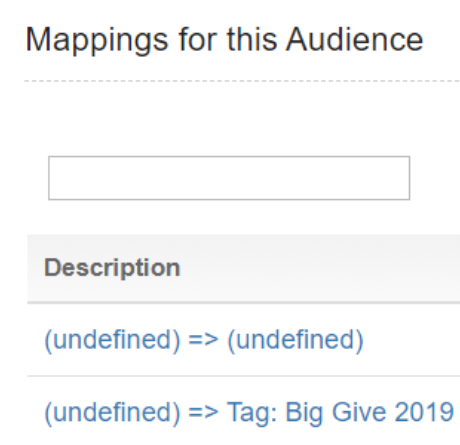 Either delete the mapping or re-map accordingly to correct the error.
A Constituent communication channel is set as emailable but the record is not syncing to Mailchimp
This may be because the Preferred Channel is not set to either email or mail.
Where the email Channel is set to Active, but the Preferred Channel is set as Do Not Contact, this will result in the constituent record being de-selected for syncing to Mailchimp.
Where Preferred Channel is set as either email or Mail, this will allow the constituent record to be synced with Mailchimp when the email Channel is also set as active.
I imported a set of contacts to my Mailchimp audience but they don't appear or have not updated in Donorfy
As the list was imported to Mailchimp, these contacts will not be synced automatically. This is explained in the Knowledge Base article Step 3: Updating Donorfy from Mailchimp

"The link will also not automatically load any subscriber lists that have been manually imported into Mailchimp - to do that you will need to export the Mailchimp audience and upload into Donorfy using the File Uploader."

If the data was Uploaded to Donorfy instead, then the data sync process would have passed the data to Mailchimp as usual.

This is a limitation of the way in which Mailchimp imports data - it uses the API which is the same API that is used for integrations. As part of the webhook setup, you do not select the API as an option to update from. If the option was selected then when Donorfy updates Mailchimp via the API those changes would be sent back to Donorfy as a webhook which could start a continuous cycle of API updates and webhooks.
My Supporter Journey Automation is not appearing in the drop-down List in the Web Widget
It's been reported that there seems to be a current quirk of the Mailchimp API. The impact of this is that the automation isn't always available via their API.
The workaround, it seems, is for any archived automation in the Mailchimp account to be deleted. This then should free things up and the active one should come through the Mailchimp API.
One (or more) or my constituent email addresses are on an Audience in Mailchimp, but the Mailchimp summary icon is not displaying
Where the summary information icon box is not displaying next to an email address in Donorfy, but that constituent's email address is on a Mailchimp audience it may be due to an erroneous space after their email address, or that the email address contains a '+'.

Deleting the erroneous space will establish the connection and the box will appear.
For email addresses containing a '+' there is not currently a resolution to this.
My items to be resolved items is not working
There is a bug in the resolution process that means it will fail at the moment, so the only way to 'resolve' is to ignore the item and to wait until you push data to MailChimp from Donorfy, where the process will match using standard matching process and then where two or more email addresses are the same it will use the most recent Constituent ID.