To enable the Dotdigital integration, you'll need to raise a support ticket.
Donorfy's Dotdigital integration provides the following features:
The ability to update contacts in a Dotdigital address book with constituent data from a Donorfy list. This update process can be configured to send data held about a constituent in Donorfy, mapping this information to either data fields or preferences in dotdigital. Updates can run either on-demand or according to a schedule.

Constituents in Donorfy are updated according to their Dotdigital campaign activity, For example, activities are added to constituent timelines when Dotdigital campaigns are emailed to them, or they open or click such campaigns.

Donorfy triggers may be used to either enrol a constituent in a Dotdigital program (customer journey) or send them a one-off transactional email.
Donorfy can be linked to one or more Dotdigital accounts simultaneously, and all the above features are available for each linked account.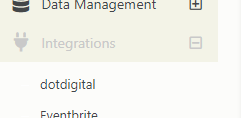 The Dotdigital integration is configured by going to the left menu, then Integrations > dotdigital.