This drop-down is available on the Work and Other contact details tabs and relates to the work they do. This differs from their job title, which is what they like to be called, not necessarily what they do.
Roles enable you to analyse your constituents by their roles, regardless of what it's called in their organisation. as it allows a uniform way of finding all constituents who fit that role rather than having to search for lots of differing Job Titles.
For Example, a Job Title may be Systems and Database Manager, which you can attribute to Database Manager, IT, Technical Services or perhaps Manager, etc.
To add a Constituent Roles
Open Settings > Configuration > Constituent Roles
Click on the + icon to the right of the screen
Enter the name of your Constituent Role in Description
Ensure it is set to Active
Click on Save Changes
The Constituent Role will then be available for use within your Donorfy within the Contact Details Work and Other section of a Constituent's Profile: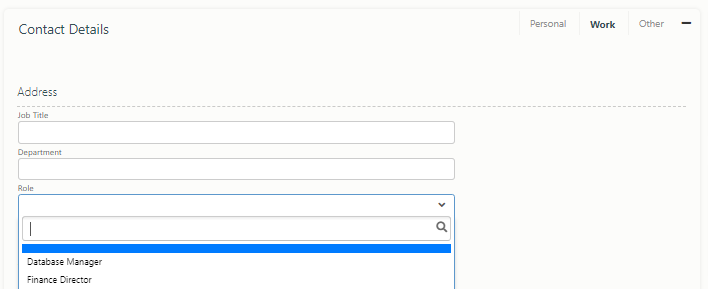 Reported on Address Regions in Lists
In your List, click on the data field selector icon, and type 'Role' into the search field - the options will then be displayed: